As the nation's black newspaper publishers planned their annual convention in Nashville for the first time in history Nashville's two black newspapers have been busy preparing Music City for the conclave of the world's oldest and largest organization of black publishers.
The Tennessee Tribune will be hosting the NNPA Merit Awards Reception at the Country Music Hall of Fame and Museum while the
Nashville Pride will host the Chairman's Reception at the Hutton Hotel.
Publishers of Nashville's Black newspapers, Rosetta Miller Perry and Scott Davis have been working with NNPA headquarter
staff in Washington in planning and implementing the annual meeting, the first held in Nashville in its 69 years.
"We are extremely excited and proud to host the NNPA," Miller Perry said. "Not only will the nation's black publishers come to Nashville to discuss our business, the convention will give Nashville an opportunity to demonstrate the fact that we are indeed a world-class metropolitan region."
Miller Perry said that when she put in a bid for the convention she had a tough fight against other metropolitan cities, but she said she convinced the leaders that Nashville is a world tourism center and for them to just forget the ugly past history. She said that there were so many negative things said about her city that she intended not to lose that battle and wanted to show the publishers that Nashville was a city worth having a conference in. She said when she fights she fights hard and expects to win and she said she "won."
Scott Davis said, "We welcome and encourage the public to attend our panel discussions and workshops Thursday, June 26 through
Saturday, June 28 at the Hutton Hotel. The panels begin in the morning and run all day."
To attend the evening events individuals must register. Call 202 5867348 NNPA Public Schedule (All workshops will be held at the Hutton Hotel, Nashville)
NNPA's corporate partners at press time include Macys, Waller Lansden Dortch & Davis, LLP, Wells Fargo, Advance Financial 24/7,
Skanska USA Building, Toyota, AT&T, General Motors and Ford.
Event Details
NNPA 2013 Annual Convention | Wednesday, 26 June-Saturday, 29 June
The Hutton Hotel | Nashville, TN | Hotel Cut-Off Date: 30 May 2013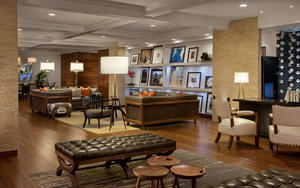 Click the link below to make your hotel reservation at The Hutton Hotel:
Group Name: NATL NEWSPAPER PUBLISHERS ASSN (NNPA)
Room Block Available: Sunday, June 23, 2013 – Monday, July 01, 2013
PRELIMINARY SCHEDULE *subject to change*
WEDNESDAY, JUNE 26, 2013
7:00-9:00 pm
Chairman's Welcome Reception

Community Recognition Awards

Entertainment by Carol Ann's All-Star Band

THURSDAY, JUNE 27, 2013
8:30-10:00 am
HBCU   Prayer Breakfast

Sponsored by Regions Financial   Corporation, Nashville, Tennessee

10:15 am-12:00 pm
Workshop   #1: HBCU's Facing Challenges Amid Efforts to Stay Financially Viable and   Competitive
12:15-1:45 pm
Luncheon:   Future of the Black Press and the Hip Hop Community–Continuing the Legacy
2:00-4:00 pm
Workshop   #2: Financial Forecasting: Cash Flow Strategies to Sustain Your Business Presented by Wells Fargo
6:30-9:30 pm
NNPA Foundation Merit Awards Reception and Dinner – Country Music Hall of Fame, 222 5th Avenue S,   Nashville, TN 37203Sponsored by Regions Financial   Corporation, Nashville, Tennessee
FRIDAY, JUNE 28, 2013
8:30-10:00 am
Breakfast:   HIV/AIDS Discussion Sponsored by the Centers for Disease Control and the NNPA   Foundation
10:00 am-7:00 pm
Macy's Beauty Bar Sponsored by Macy's
10:15 am-12:00 pm
Workshop   #3: Effective Community Events w/GM
12:30-1:45 pm
Luncheon: Education and the Black Press
7:00-8:00 pm
NNPA Legacy Awards Reception
8:00-10:00 pm
NNPA Legacy Awards Dinner – Election   Results Announced

Master of Ceremonies: Dr. Bobby Jones

10:00 pm-12:00 am
Entertainment and Dessert Afterglow
SATURDAY, JUNE 29, 2013
1:00 pm – 4:00 pm
Reception Africa House (former Slave Quarters in Gallatin) and sponsored by Dr. Arikana Chihombori, her husband, Dr. Nii Saban and coordinated by Publisher Attorney Charles W. Cherry II of the Florida Courier
Comments
Related Articles
Share
About Author
(0) Readers Comments