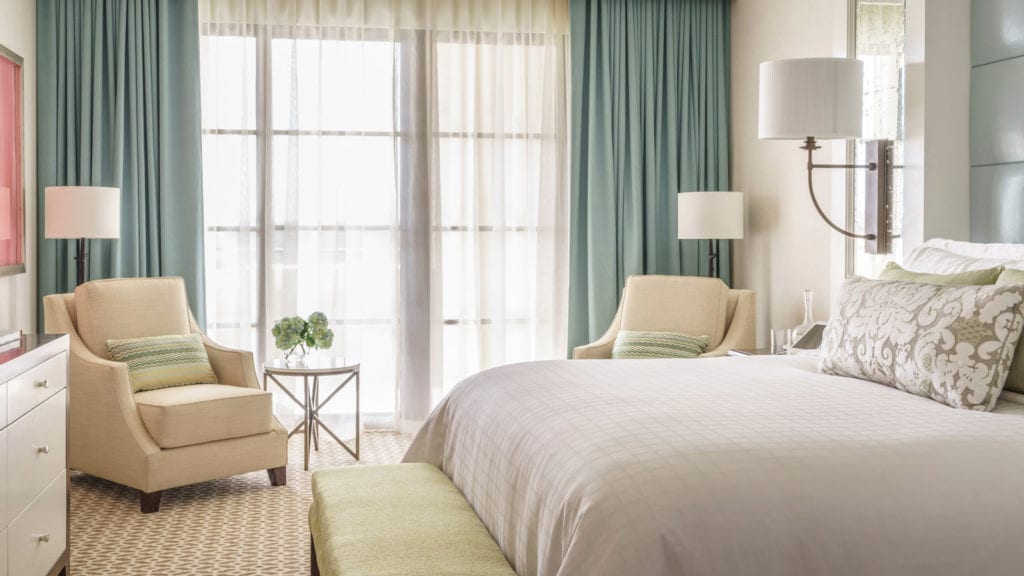 The Four Seasons Orlando at Walt Disney World Resort is a harmonious convergence of upper echelon luxury and dreamy comfort, offering its guests the finest in accommodations.
The 26-acre resort is set amid the palm-tree lined, gated Golden Oak community, a Disney-developed residential enclave of custom single family homes. Located in a lushly landscaped area with many mature trees, lakes and protected wetlands, the community is close to all the action and entertainment nearby, yet with a feeling of seclusion.
The Four Seasons royal treatment begins upon the entering the resort. Attentive staffawaits the arrival of each guest, quick to open doors, assist with luggage and offer valet parking so that weary travelers feel no burden. Guests are immersed in glamouras they enter the lobby withthe chic and modern décor and superior hospitality.A chandelier depicting fireworks overlooks the main foyer. Designed in the Czech Republic by Jozef Baca and VeronikaKopecna, the work of art was inspired by the illumination of fireworks in a dark sky. This ties in withthe spectacular views of the nightly Magic Kingdom Park® fireworks from the rooftop restaurant, Capa, and from the furnished balconies of the Resort's Park View guest rooms.
Conveniently located across from the front desk, the Disney Planning Center can facilitate guests' plans to experience the Disney parks, from tickets to dining reservations and special character events.
"We could not be more delighted that Disney chose to collaborate with us," says Thomas Steinhauer, Regional Vice President and General Manager for Four Seasons Resort Orlando at Walt Disney WorldResort. "Our Resort offers incredible amenities never before seen at a stand-alone luxury resort in Florida. We offer an experience that our guests are going to love, plus endless recreational pursuits on property for guests to enjoy on a day off from the parks."
There are 443 rooms, 68 suites and a Royal Suite, whichboasts of nine bedrooms. EachFour Seasons' room demands review of its stellar accommodations, with plush robes, thick towels, slippersand signature bedding, tailored to each guest.
"From the day we welcomed our very first guests for the night more than five decades ago, we have placed supreme importance on creating optimal sleep conditions, along with the intuitive service that has always been the hallmark of Four Seasons," says Chris Hunsberger, Executive Vice President, Product and Innovation.  "This new research supports what our guests have told us – everyone has different sleep needs, but the desire for a good night's rest is a universal passion. That's why we're making it as easy as possible to fully customize the sleep experience when you stay with Four Seasons."
The beds are not and do not need to be advertised as a night's sleep on the mattress has guests sold.Interested buyers can choose from firm to plush and enjoy a Gel Touch Foam Center technology that absorbs extra heat. In addition, a topper is custom designed for each guest and can be reapplied with each returning visit.
The bathroom consists of a dual head shower system, a built in tv within the mirror above the double sinks and a slick sliding doors.
The pool area is an outdoor oasis for all ages. A zero entry infinity pool overlooks a scenic lake offering the perfect picturesque view. Nothing is lacking as professional staff see to it that the needs of all ages are met, including sunblock dispensers throughout the area. It is truly a tropical paradise, where chilled pitchers of water and glasses are served with continuous refill. The cabanas offer an outdoor living room experience, equipped with a fridge, a cabinet for storage and a ceiling fan. Of course, there are ample outlets for charging electronics.
Explorer Island will exceed expectations of visitors. Two waterslides lead brave adventurers down a long stretch of winding tunnels.  For a more casual experience, enjoy a leisurely ride in an inner tube along the lazyriver, which winds around the"ruined" mansion. The Kids for All Seasons program is a complimentary camp for ages 4 to 12 and is fully supervised. Young visitors will be entertained at Explorer Island,which includes the expansive Splash Zone with dozens of choreographed water jets and a video gaming center. Outdoor adventurers will also enjoy climbing the rock wall in the area.
While the kids are being entertained at Kids for All Seasons, parents can relax in the adult only pool. The area features underwater audio, private cabanas and staff ready to serve.Burn some calories at one of the three on-site Har-Tru tennisor in the 24-hour fitness center. Each guest receives the finest care with attendants surrounding the property.
DINING
Enjoy the grilled octopus, cured with a unique blend of garlic and mint and served with celery and flavorful Taggiasca Olive Salad at Ravello. For a heartier meal consider the
housemade Veal Ravioli consisting of Braised Veal, Ricotta, Spinach, Truffle Essence, with Wild Mushroom.
For quicker service without compromising quality, consider Lickety Split,which offers fine gourmet coffee from Umbria in Seattle alonghousemade gelato and pastries and panini sandwiches to-go.
RELAXATION
The Spa at Four Seasons Resort Orlandoprovides an ideal haven to relax and escape. After a day spent at the theme parks or enjoying 18-holes of golf or a tennis match, there's nothing better than relaxing with a luxurious treatment at The Spa.  With 18 treatment rooms, including four couples' suites and two couples' spa bungalows, plus a full-service hair and nail salon, The Spa at Four Seasons offers something for everyone.  Unique to the Spa is an Aroma Design Bar, where guests can customize their own signature scent for products they would like to use at home. The Aroma Design Bar experience comes to life through the use of theIntentional Aromatherapy iPad app, which helps guests to explore, choose and create aromatherapy blends,guided by the expertise of a master aroma therapist. A line of intentional aromatherapy treatments are customized to each guest based on current intentions/needs.
Visting Disney
The Four Seasons offers a complimentary motor coach to the Disney parks all day long, every 30 mins to Magic Kingdom and on the hour to the other parks.Private car transportation is $18 to Magic Kingdom and $20 to most other local Disney attractions.
If seeking a luxury resort experience in Orlando, The Four Seasons Orlando at Walt Disney World Resort is the perfect place. All ages will be catered to with the perfect balance of rest and play.
Four Seasons in the Sunshine State
Four Seasons Resort Orlando at Walt Disney World Resort joins sister hotels Four Seasons Hotel Miami and Four Seasons Resort Palm Beach as the third property in the brand's Florida collection.  A fourth project, Four Seasons Hotel at The Surf Club, is now in development in the Atlantic Ocean community of Surfside.