NASHVILLE, TN — With A-list clients such as Ashley Judd, Alan Jackson, Steve Winwood, Blake Shelton, Kix Brooks, ABC hit series "Nashville" and more,...
Who: Terry Oxford, a Green Beret, Vietnam veteran and two-time Purple Heart recipient What: Quilt of Valor and walking stick presentation When: 11 a.m. Monday, June...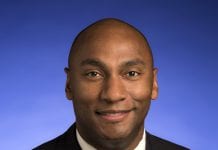 NASHVILLE, Tenn. — The Tennessee Senate voted unanimously today to make TBI investigative records around officer-involved shooting deaths public. The bill is sponsored by...
Referendum on May 1 ballot; Early voting begins April 11 NASHVILLE, TN — It's no secret that the people of North Nashville suffered greatly, and...
By Emmanuel Freeman, TSU Medial Relations NASHVILLE, TN — Although born more than 40 years apart, Theresa Lyles and her granddaughter Zuri Lyles were part of the...
NASHVILLE, TN — Thanksgiving is a time when many of us reconnect with family members and share stories. At the Tennessee State Library and...
By Peter White NASHVILLE, TN — The city council approved a referendum on Mayor Megan Barry's $9 billion transit plan. They also voted to create...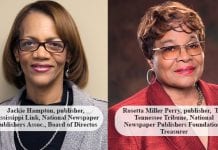 By Othor Cain  JACKSON, MS — Jackie Hampton, publisher of The Mississippi Link newspaper and a member since August 14, 2000, attended the Mississippi Press...
Hello Nashville! I'd like to introduce McCullough Law, PLLC to you.  Perhaps, I should introduce myself as well.  My name is Christian West-Coleman and...
Most Popular
By Vivian Shipe KNOXVILLE, TN — When the call went out throughout the city of Knoxville to help the homeless during below freeing temperatures, many...
Latest reviews
By Peter White NASHVILLE, TN – The sanctuary at First Baptist Church, Capitol Hill was full again last month for a community meeting about Nashville...
No shooting — No Murders — Just LOVE By Staff Reports NASHVILLE, TN — Cayce Place, a public housing development located in East Nashville, was the...
By Janice Malone GREENVILLE, MS — Former Tennessee Tribune intern and recent TSU graduate Tyrie Whiteside has landed his first job as a full-time newspaper...