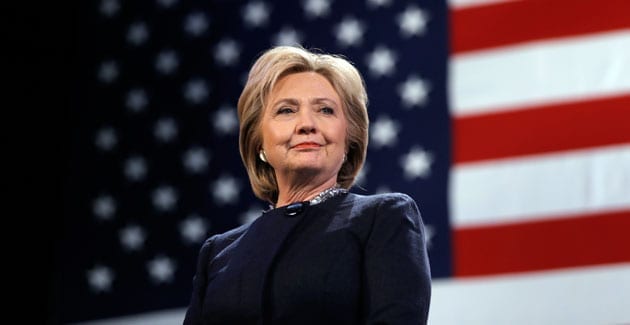 WASHINGTON, DC — Hillary Clinton will address the joint convention of the National Association of Black Journalists and the National Association of Hispanic Journalists in Washington on Friday, the two groups confirmed on Monday.
"The format is up in the air at the moment and it is unclear if Clinton will take questions, according to a source familiar with the discus- sions," Darren Sands and Adrian Carrasquillo reported for BuzzFeed News just before midnight on Sunday.
They also wrote, "The groups extended an invitation to [GOP nominee Donald] Trump to speak as well, as many other Latino and black organizations have done in the lead up to the general election, but his campaign has not yet responded," sources said.
Clinton addressed the NAACP National Convention in Cincinnati last month, forcefully condemning recent police shootings, including the killing of officers Brad Garafola, Matthew Gerald, and Montrell Jackson in Baton Rouge, La. She also addressed the General Conference of the AME Church in Philadelphia that month. The Democratic National Convention featured the mothers of African Americans killed in police custody.
Then-Sen. Clinton also addressed the NABJ convention in Las Vegas when she ran for president in 2007. There, she invoked the killing that year of Oakland journalist Chauncey Bailey and discussed "a crisis of the 1.4 million young men of color between 16 and 24 without jobs and out of work, and too often, without hope."
Then-Sen. Barack Obama also addressed that convention, returning the next year to speak before Unity: Journalists of Color in Chicago.
"It is notable that Democratic presidential nominee Hillary Clinton has recognized the 2016 NABJ-NAHJ Convention as a vital gathering to discuss her platform and the issues impacting black and Latino communities," NABJ President Sarah Glover said in a statement. "Presidential nominees and U.S. presidents from both parties have attended NABJ annual conventions, including President Bill Clinton and President George W. Bush, and presidential nominees Barack Obama, Bob Dole and Al Gore. We're ecstatic to add the first woman nominee to our list."
"Throughout her campaign, Hillary Clinton has placed an emphasis on inclusion and has shown support for communities of color. Her decision to support this event further shows her commitment to diversity, and we welcome her just as we've welcomed President George W. Bush and Mexican President Vicente Fox to previous conventions," said NAHJ President Mekahlo Medina.
As president, Bush addressed the Unity convention in Washington in 2004, along with his opponent, then-Sen. John Kerry, D-Mass. While he did not address NABJ or NAHJ separately, that convention included NABJ, NAHJ, the Asian American Journalists Association and the Native American Journalists Association. Likewise, Gore spoke to NABJ as vice president in 1996, but as a presidential candidate in 1999, addressed Unity.
Sen. John McCain, R- Ariz., then the presumed Republican nominee, skipped the 2008 Unity convention for Ohio State University in Columbus, Ohio, to appear at Lance Armstrong's Livestrong Summit and Livestrong Presidential Town Hall on Cancer.
In 2012, this column reported, "The Republican National Committee and the putative GOP standard-bearer, Mitt Romney, have ceded the National Association of Black Journalists convention to the Democrats, rejecting invitations to send speakers or panelists that the Democrats eagerly accepted."
A story in the Los Angeles Times shamed Bush into appearing at the Unity convention in Seattle in 1999.  Sam Fulwood III reported on July 9 of that year for the Los Angeles Times:
"Presidential contenders appeared Thursday at the Unity '99 convention of minority journalists — including George W. Bush, who hastily rearranged his schedule for an impromptu walk-through.

"The Republican governor of Texas ordered his staff to rearrange his schedule after a Times story Thursday reported that even though he was campaigning here he couldn't fit an appearance before the 6,000 journalists into his schedule. His rebuff provoked criticism from some at the conference, who noted that Bush has made racial and ethnic inclusion a key theme of his campaign.

"Unlike two of his rivals for the White House – former Democratic Sen. Bill Bradley of New Jersey and Sen. John Mc- Cain (R-Ariz.) — Bush spent only minutes at the conference, informally greeting the crowd that quickly gathered around him. Vice President Al Gore is scheduled to speak to the group today.

"As convention officials attempted to move Bush to another location for a formal news conference, several reporters shouted questions and admirers pressed for autographs and posed for photos."

"I have a lot of friends here from Texas," Bush said, explaining why he came to the convention. "I wanted to come by and say Hi."

"Karen Hughes, a Bush spokeswoman, said a decision to alter his schedule came as Bush was en route to Seattle and after campaign officials read the morning newspapers. 'We read the L.A. Times story this morning and people were saying it was an important signal to send, so he decided to make the effort,' Hughes said.

"Bush did not stray beyond an exhibition hall that was set up for job interviews. Repeatedly asked why he had not agreed earlier to attend the gathering of African American, Asian American, Latino and Native American journalists, Bush shrugged and said he gets many more invitations than he can accept. 'Do you know how many invitations I get?' he asked, adding that he didn't know he had been invited until a day before he arrived in Seattle."
The Asian American Journalists Association has invited the presidential candidates to a "town hall" event during its Aug. 10-13 convention in Las Vegas, but there has been no word on whether the candidates have accepted.
Sandra Long Weaver, editorial director for The Tennessee Tribune is the one of the 44 founders of the National Association of Black Journalist. On Friday, August 5th, Mrs. Long Weaver will be inducted into the NABJ Hall of Fame with other founders. The president of the Nashville NABJ Chapter is Jason Luntz, Social Media director, also with the Tennessee Tribune.