NASHVILLE, TN — A waste management service's plan to move from Baptist World Center Drive to Whites Creek Pike is the reason for one of many Metro Council votes set Tuesday night in Davidson County's courthouse.
Haynes-Trinity Neighborhood Coalition members protest the move within District 2, with leaders insisting the business owner, Harvey Combs, could find another location away from their homes. They've complained about offensive odors for more than a decade.
It is "environmental racism," opponents say.
Combs' engineer, Roy Dale, counters the allegation saying, "Leaving that existing facility where it is — that's environmental racism."
Dale compares Onsite Environmental's current operation to an outhouse and the new facility to indoor plumbing. Furthermore, the new site is across the street from a quarry, and Dale says the new processing plant would be on the back side of land suitable for a
strip-mall and stores.
Combs "is buying it [the new site] with the idea that it could be retail," Dale says, adding Combs does not want to speak publicly. "Theoretically, it [the retail area] could be offices," and a 600-foot-wide wooded area would be a buffer zone between the plant and the closest homes.
Moving the facility — from 1421 Baptist World Center Drive to a nearby site at 2832 Whites Creek Pike — Dale says, is: convenient for established business traffic patterns; closer to other industrial operations; an opportunity to sell the current site for development residents want, such as restaurants and stores; and the move is going to force the business to meet current regulations, which the current plant doesn't face because of common law grandfather rights.
Onsite Environmental, previously known as Combs Industrial Service, receives tank truck loads of liquids from landfills, car washes and restaurant grease traps. At landfills, newly covered garbage increases the weight on previously covered garbage and that growing pressure squeezes liquids from garbage. That leaching process produces leachate, a liquid waste that legally can't be drained into sanitary sewers without pretreatment. Same thing for petroleum products and soap that pollute water from car washes, as well as restaurant grease trapped before it can flow into, and clog, sewers. Petroleum products and leachate kill micro-organisms in the biological process used by sewage treatment plants.
Dale says Combs looked for alternate sites. They were at Clarksville, Goodlettsville, and other places.
Suitable alternative sites aren't that far away, according to Haynes-Trinity Neighborhood Coalition spokeswoman Winnie Forrester, president of the Haynes Heights Neighborhood Association. Forrester reports her friends in the real estate business say there are other suitable sites for Comb's business, and they're not going to adversely affect nearby residents. In an email to friends and neighbors, Forrester provides  an Internet link to Real Tracks to display alternative sites. They're on: Haynie Avenue with 1.38 acres priced at $305,000; Locust Street where 2.5 acres are priced at $2.8 million; and three sites elsewhere on Brick Church Pike including 10.7 acres for $1,922,000, some 16.6 acres for $3 million, and 5.91 acres near a sweeping interstate interchange for $1,061,041.
Haynes-Trinity Neighborhood Coalition members have lobbied members of metro's city council, asking them to vote against the proposed ordinance that's up for its third and final vote Tuesday night, Sept. 4. The date is important because two days later, Thursday, Sept. 6, is the end of a 30-day period that started Aug. 7 when the council conducted a public hearing in conjunction with the state's Jackson Law. That statute, when adopted by a city and/or a county, authorizes the local government to stop what's judged to be an environmental threat to the health, welfare, lifestyle, economic value of nearby real estate and several other criteria listed in the law.
The law was used by elected officials in nearby Marshall and Rutherford counties when corporations that own landfills sought state permits to expand the areas used to bury garbage at, respectively, Cedar Ridge and Middle Point Sanitary landfills.
If the council denies Onsite Environmental's request — such denials have come with explanations on why circumstances justify denial based on the criteria — then the company can appeal to chancery court. The chancellor in such a case must conduct independent hearings with newly presented evidence so that a ruling can be made without using the record considered by council members.
Onsite Environmental "can sue and will win," 1st District Councilman DeCosta Hastings told his constituents during a District 1 meeting on Aug. 28. "I will do all I can to protect you."
Later, Dale said that an ad hoc community group might be created to monitor the new site.
Haynes-Trinity area residents remain skeptical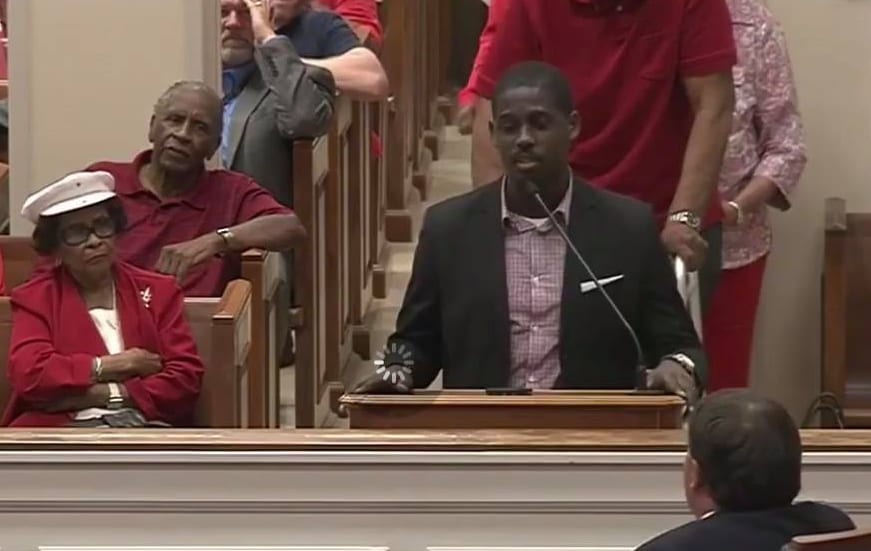 "We have heard council members say it's futile to vote against the bill because Onsite says they will move anyway and just process grease, since the Jackson Law can only prevent the processing of landfill leachate and oil wastewater," Forrester reports. "This is not a justifiable argument. According to the Tennessee Department of [Environment and] Conservation [TDEC, the agency that issues permits for landfills and treatment plants], the grease is only 60 percent of their business and it's likely [that] preventing 40 percent of their revenue stream will … make it unprofitable for them to move…"
Some of Forrester's neighbors made the same argument in the North Police Precinct after attending Hastings' meeting Aug. 28.
Early on Wednesday, Aug. 29, while discussing the Jackson Law and its applicability to Onsite's move, Dale addressed the profitability of the new site with only part of the treatment process removed from the old site.
"The Jackson Law has eight tests," or criteria against which a proposed landfill, or treatment facility must be judged, Dale said. Since Onsite Environmental treats liquids — and much of its operation is recycling waste into fertilizer — there's a question about whether the Jackson Law applies to any of the proposed processes for liquid wastes, especially since it is recognized as a law governing landfills for solid waste.
"Metro legal said, 'Why take the chance?'" Dale said. "It's a problem."
If processing grease into fertilizer isn't subject to the Jackson Law, will the other liquid waste's processing be subject to the Jackson Law?
"I think not," Dale said.
So, that unanswered question might become the subject for a Chancery Court lawsuit.
Much of the legal challenge to overturn a council denial of Onsite's request might well rest on how the council justifies denial. In Marshall County, justification was specified by county commissioners moments before they cast their votes. Expansion of the landfill near Lewisburg was permitted eventually, but that was after Phil Bredesen's term as governor ended and Bill Haslam began his first term as governor with a new commissioner of the Department of Environment and Conservation.
"Over 45 people … showed up" for a rally in the north precinct's lobby to publicly explain their objections to Onsite Environmental, Forrester reports. "Later, the crowd grew to 120 people for the councilman's meeting," also attended by advocates of Habitat for Humanity homes, and another development, as well as Dale, and Combs' lawyer, Tom White, and advocates for various other interests. White previously opined that the Jackson Law does not apply to Onsite's processing, but Aug. 28, he made a distinction.
See another story at tntribune.com, headlined "Onsite Environmental Officials Face the Public." It's best accessed by searching for that headline. Also, search for "'Environmental Racism' Protested" at tntribune.com.
During the councilman's district meeting, Danavan Hylton, CEO of B2B & B2C Consulting, distributed papers to coalition members so they could write questions to be answered by Onsite Environmental. Hylton was asked by The Tennessee Tribune about providing a link to his website, or one where answers might be posted. The idea was well-received. Hylton was contacted hours after the meeting about adding such a link to this website.
Accepting written questions from residents, Forrester says, is "quite a novel way of handling a crowd…
"We didn't see any minds changed" during the presentation by Hylton or answers from White and Dale, Forrester states.
Nevertheless, area resident Kenyatte Tidwell spoke to an Onsite Environmental representative after the meeting.
"If you move, will you will you keep the same employees?" Tidwell asked, adding that the processing plant creates a bad odor. However, she complimented the manager as "awesome" and said she believes he works Monday through Friday. During weekend, she says, it seems that "the workers are not following protocol and procedures."
If the processing plant is moved, it must meet environmental regulations that are more stringent than those enforced at the current site, which is grandfathered.
"Onsite is a good fit for the community" at the proposed location, which is near other industrial operations, Hylton said. Onsite Environmental, previously Combs Industrial Service, has been in business at the current site since 1988.
Hylton and Hastings also explained that the proposed site is appropriately zoned for Onsite Environmental's new operation. That's an important point because of the Jackson Law. Hastings emphasized that the land was rezoned when one of his predecessors was in office. Documents made available during the meeting substantiated the point, and include then-Mayor Karl Dean's signature after an ordinance was passed by the council.
"We can't rezone the property anymore," Hastings said.
The grease plant shouldn't stay the way it is today, Hastings said. If it's moved, the processing must be inside a building.
White told the coalition members, "We're here tonight because of … [Nick] Leonardo," the former 2nd District councilman who sponsored, advocated and shepherded an ordinance that led to the city's adoption of the Jackson Law; the statute that may well give the council authority to block state issuance of a permit for Onsite Environmental's new site.
Dale contends that it's better for the old grease plant to be closed and be replaced by a new facility. The immediate plan is to move it to a place that's still in District 2.
"The old facility is old and it smells and creates the problem," Dale said. There's an image problem; that being: the plant will just be moved and will still smell bad.
Dale concedes that there is a lack of trust and that it's an emotional issue. Long-time residents refuse to change their position that the grease plant near their homes must be shut down and reopened far away.
"It's something that sticks in their craw and they can't get over it," Dale said.
During the public hearing Aug. 7 at the city council meeting, one of the area residents conceded that a more modern facility would be an improvement, and as long as it works and is operated properly, then there's no problem. However, that's not always the case and mistakes are made, he said.