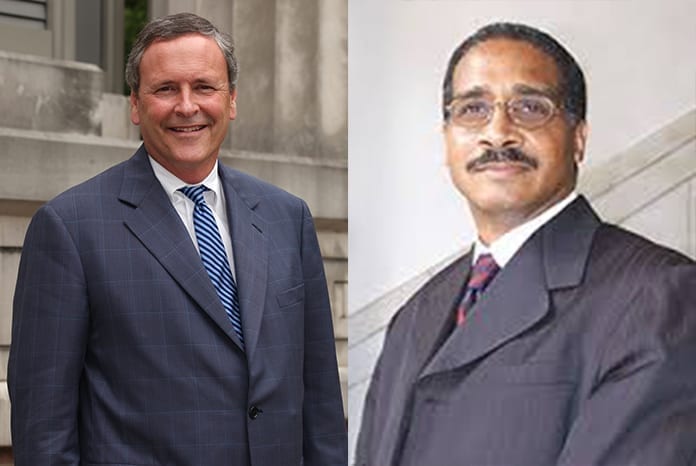 The pastor of what's arguably the most prestigious African American church in Nashville, from a Civil Rights perspective, and the highest ranking law enforcement officer in Davidson County made some strikingly similar observations in separate interview last weekend when asked about the July 5-7 shootings in America.
"The issues are greater than what these symptoms are," the Rev. Kelly Miller Smith Jr., pastor of First Baptist Church, Capitol Hill, said, reflecting on an underlying question.
Why are these things happening?
Davidson County District Attorney Glenn Funk notices "a value gap" across the nation and that puts African Americans at a disadvantage. Funk also noted issues in various aspects of life and they were similar to what Rev. Smith listed.
Those symptoms arise from disparities in housing, criminal justice, education, employment and other areas of daily inequity, Smith said.
There are things that are "engrained" in society that still fester among people who face racial discrimination, if not violence, from authorities, Smith said.
Police say "most of the crime is caused by black people, so they (police) have to be stronger, so their actions are justified," Smith commented. "That's a false basis. So, much of the criminal justice system is stacked against black people."
A man was stopped for an allegedly broken tail light and he was subsequently killed.
"He lost his life because he was reaching for his driver's license," Smith said. "There's a general fear of aggression from black folks because they are black. There's a system that seems to be against people of color."
The district attorney said, "There seems to be a value gap…
"Society seems to value white lives more than black lives … and it's not necessarily something that's done on an intentional basis but it still manifests itself in housing, criminal justice, education, employment, and pay.
"And, you say that, and then you realize, 'Oh my gosh. This is more than just something that's confined to one part of society," Funk said. "We've got a lot of work to do as society. We're in better shape here in Nashville, but we've got a lot of work to do even in our community."
As Funk continues to strive to make his office even more reflective of the Nashville population, he adds, "The prevalence of guns, often times, leads to horrific violent acts."
The police department is trying to deal with these issues, he said, adding more is being done to understand the cause.
National Newspaper Publishers Association President Ben Chavis spoke in Nashville last year saying, "There's a reaction to our president being black" among those who have power over local communities as evidenced by crimes by police against blacks. "I don't think we are on-guard enough."
Smith reacted, in the context this month, saying, "There are some merits to that. There are those who wished that Obama's election would turn a corner, but what seems to have happened is it's opened the wounds of those who are racist."
Smith cites an East Tennessee politician's billboard; "Make America White Again."
"There are things that happen in society that seem to show that things are stacked against people of color," Smith said.