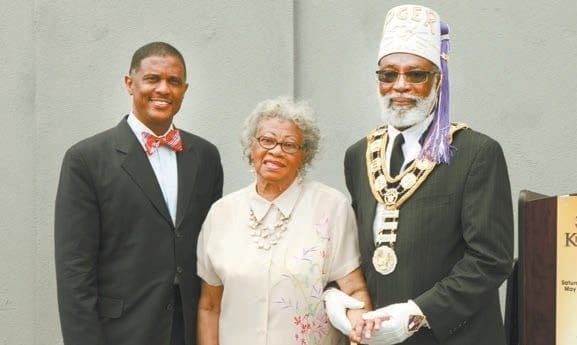 NASHVILLE, TN — The restaurant, formerly Harpers, features a café, with traditional southern and soul food, that is nutritious and healthy served cafeteria style, and a grill section, equipped with Wi-Fi, geared to "grab and go" style food.
Kingdom Café & Grill (located at 2610 Jefferson St.) is an outreach ministry of Fairfield M.B. Church that opened with community events to welcome patrons to Jefferson Street's newest eatery. The hours of operation are 11 a.m. – 7 p.m. for the Café and 11 a.m. – 9 p.m. for the Grill.
Because of the effort for community togetherness, the Pride of Tennessee Elks Lodge #1102 and the Spencer Jackson Temple 763 joined with the Kingdom Café & Grill staff and members of Fairfield M. B. Church for a Circle of Love in Prayer on Saturday, May 28. "This was an effort to become an integral part of the Jefferson Street/North Nashville community and to demonstrate the commitment our church has for economic salvation, said Rev. Howard E. Jones, Jr., Senior Pastor of Fairfield M. B. Church. Representatives of the groups walked around both buildings seven times with scrolls to symbolize the story of the Wall of Jericho breaking down barriers and bringing about hope.
The Dedication, held Tuesday, May 31 was the official opening of Kingdom Café & Grill. It is more than a restaurant, it is a dining destination.