NASHVILLE, TN — MOGULS, Men Obtaining Goals Under Leadership Strategies, located on Buchannan Street, was the site for the Business Community Connect with Howard Jones, candidate for Tennessee State Senate, District 19.  Held on the storm-riddled night of Thursday, August 31, individuals came to hear and be heard on the need for economic growth and how it is rooted in education.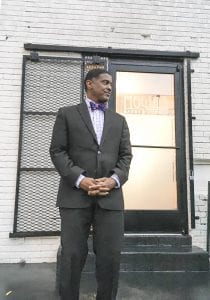 MOGULS proprietor Andre Southall developed this high-quality creative style barber shop so that customers can relax, hold meaningful discussions, and learn from each other in a comfortable and impressive environment. With regard to Howard Jones, he said, "It is important to have productive leadership with someone who is about our business. Be busy about the right stuff."
Many in the group felt education was a significant key to being successful in the business world. MNPS school former board member  Cheryl Mayes was concerned from the student perspective. "Our students need technical training that is applicable to them. Nissan's  summer paid internships is a good example.
Others pointed out that many certifications being offered to our high school students are useless.  It was further explained that there had been no programs to help students pay for certifications until this current MNPS administration.
Jones explained there is a need for students to be intricately exposed to businesses so that they may prepare for a future that will be productive for them. He continued, "Me representing you means we must continue to strategize. Every three months, town hall meetings should be held around the core values of education, economic empowerment and development, efficient and affordable housing, and employment.  He added, "There is a real need to communicate openly and honestly, so that we all are empowered and grow together."
The group focused on the importance of hearty and growing businesses to make the community better. Southall added, "Howard Jones is the man with wisdom in leadership and has a background knowledge to help 'not put the trailer before the horse.' That leadership will allow the knowledge to be passed on to each other, as well as connect to a network and resources."
As the session ended after a healthy discussion on how to make our lives better, Jones stated, "Success comes from sacrifice and struggle and I am willing to do just that."