By Wiley Henry
MEMPHIS, TN — The non-profit Tennessee Beauticians, Barbers and Nail Technicians' Association (TBBNTA) is hosting its 75th Diamond Jubilee Convention Oct. 14-16 at The Guest House at Graceland, 3600 Elvis Presley Blvd. The theme is "Professionals Creating Beauty in the Industry."
"The Tennessee Beauticians, Barbers and Nail Technicians' Association has a mission to empower the beauty industry with the knowledge, skills and essential tools to enhance quality customer service," said Sally Johnson, TBBNTA's president.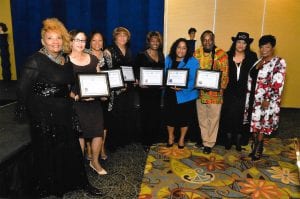 The three-day convention is designed to increase awareness of the beauty industry, grow one's clientele, and expand economic opportunities for cosmologists, barbers, nail technicians and students working in Memphis and the surrounding area.
The professional cosmetologist and the aspiring cosmetologist in the beauty industry will enjoy three days of trendsetting techniques taught by some of the industry's most talented stylists.
"We're hosting the convention to enhance leaders with knowledge and skills needed to maintain and uphold an industry of quality service," said Johnson. "Our deepest passion is service, support, education, leadership and financial growth for the beauty industry."
Growth is the operative word that spurs the local industry leaders to host the convention year after year.
After the 1 p.m. registration and opening ceremony on Saturday, Oct. 14, a reception, dance and an awards banquet honoring the late state Rep. Lois DeBerry, Katrina Edwards, Cynthia Dickerson, Tommie Crutchfield and five past presidents (Gwyn Daniels, Sadie Anderson, Viola Taylor and Alma Moore) will commence at 6 p.m. Claire Ford, a former Miss Black America, will also be honored.
Charlotte Bush is slated to speak to the conventioneers at 8 a.m. Sunday, Oct. 15, followed by "Brunch with Chapter Presidents," and then a cadre of local talent facilitating workshops, such as "Natural Hair Care," "Essential Beauty Supply Technician," "Making Your Business Profitable," "Social Media and Your Business," and "Wig Making on a Sewing Machine (Hands On)."
Also on Sunday, a styling contest for student cosmetologists will begin at 1 p.m. Student beauticians, barbers and nail technicians will get an opportunity to compete for monetary prizes and recognition for their school.
The convention will continue on Monday, Oct. 16, with additional workshops, and a silent auction, which begins at the top of the convention.
Vendors will be present in the exhibit hall during the three-day convention. Martha Braxton will rap up with a workshop called "Top 10 Trending." Other workshop facilitators include Angela Brown, Jerin Towns, Larry Johnson, Marva Ballard, Nicole Gipp, Laverne Jackson, Tamika Turner, and others.
"The convention will provide opportunities and experiences that will inspire future cosmologists, barbers and nail technicians to become successful in the beauty industry," Johnson said. "This is our 75th year and we expect it will be a big success."
For more information about the Tennessee Beauticians, Barbers and Nail Technicians' Association, call Sally Johnson, TBBNTA president, at 901-490-9072; and for ticket prices, call Janice Scott, the convention chairperson and financial secretary, at 901-461-4366.
The Tennessee Beauticians, Barbers and Nail Technicians' Association was established in 1942 in Chattanooga, Tenn. Currently operating in a sound fiduciary position, the TBBNTA offers education, sisterhood and business opportunities throughout the state of Tennessee. The mission is to establish and maintain the confidence of the public by encouraging license cosmetologists, barbers and nail technicians to utilize business ethics and professionalism while providing services to the client's hair, scalp and nails.