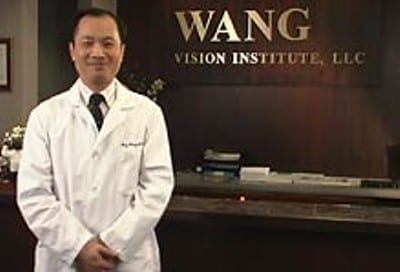 NASHVILLE, Tenn. – The Kiwanis Club of Nashville is proud to announce Dr. Ming Wang, director of Wang Vision 3D Cataract and LASIK Center, world-renowned laser eye surgeon, author, and philanthropist as the 35th recipient of their coveted Nashvillian of the Year Award for 2015.
Dr. Wang receives the award by exemplifying the qualities of Outstanding Nashvillian of the Year and the Kiwanis International Vision. Dr. Wang worked diligently to make the world a better place, when he established the Wang Foundation, helping patients from over 40 states in the U.S. and 55 countries, with sight restoration surgeries performed free-of-charge.
"It is difficult to know anyone who works as hard giving back to the community and changing the lives of children as much as Dr. Ming Wang," said Kenny Markanich, president, Kiwanis Club of Nashville. "He has helped countless children through the charitable outreach of his foundation, giving free surgeries to repair their vision."
Dr. Wang actively contributes to the Nashville community as the founding president of the Tennessee Chinese Chamber of Commerce and as an honorary president of the Tennessee American-Chinese Chamber of Commerce. The mission of these two chambers is to help educate Tennessee businesses about China, helping Tennessee to increase its export to China. He is also a co-founder of Tennessee Immigrant and Minority Business Group, an organization that provides support to the diverse cultural and ethnic businesses in our community.
For the past 35 years, the 100-year-old civic club has bestowed the annual accolade upon an individual who has gone beyond the expected scope of their abilities for the betterment and benefit of the Nashville community. The selection committee was spearheaded by George H. Armistead, III, one of the three original architects of the award (along with the late Gillespie Buchannan and the late Ralph Brunson).
A program saluting Dr. Wang was held at the Patron Club, Friday, July 29th at 11:30am. Dr. Wang was presented with a commemorative plaque along a commissioned caricature.