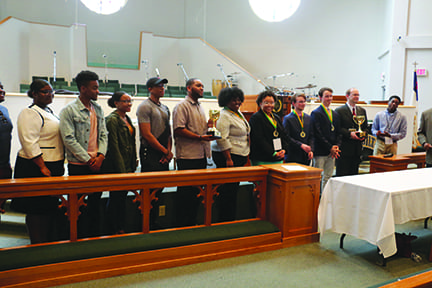 By Peter White
NASHVILLE, TN — Students from Pearl Cohn Magnet High School and undergrads from TSU and Vanderbilt argued two questions at Gordon Memorial United Methodist Church last Saturday.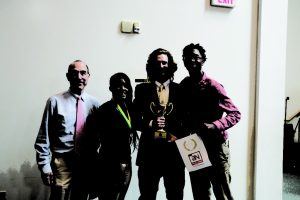 The Big Debate was sponsored by the Reclamation Center. NewsChannel5's Vicki Yates moderated. For an hour and a half four judges listened to argument and counterargument, rebuttals, and summations.  Radio personality AG Granderson emceed the event and urged participants to keep an open mind.
"Even though you have such strong beliefs you still may hear something that makes you say 'You know what? That's right. That does makes sense'," said Granderson.
The debaters were having none of it. They went after each other like cats and dogs.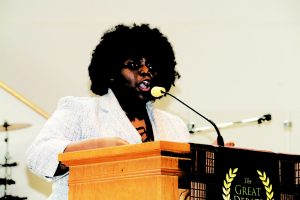 In competitive debating, teams prepare to defend or attack a given resolution, so they research both sides of an issue, prepare their case either way, and a toss of a coin determines what side they will argue. For this exhibition, the teams selected their respective position beforehand.
"Once you set your mind on something it's kind of hard to be persuaded the other way but I think they can see the other side," said Pearl Cohn Junior Monte Shields.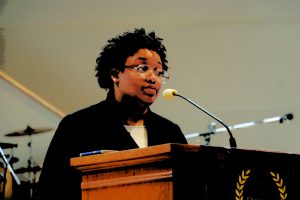 Shields argued that the American Dream is attainable for all citizens. For him, it's personal.
"I feel like we should be the most important person to ourselves. We change our destiny. I don't want to wait for handouts or wait for someone to give me what I need. I feel like we should go out and get what we need," he said.
Keishay Brown took the opposite view.
"Even though they say the American dream is attainable, it's really not. All races don't have the same opportunity. How will Latinos and immigrants have the same opportunity as citizens that are here now in America?" Brown asked.
Defining the terms, critical thinking, and supporting evidence are what judges look for. But passion persuades and often carries the day.
Emmett Till's Mother 
After the high school debate, TSU student Shana Woodland walked solemnly to the floor microphone and told briefly about the murder of Emmett Till, a 14-year old boy from Chicago. He was tortured and murdered in rural Mississippi in 1955. His battered and disfigured body made the cover of Look magazine. The world did look. Till's murder was a spark that ignited the Civil Rights Movement a few years later.
"Are images and video of police brutality and other injustices the only way for people to wake up, create good change?" Woodland asked. Then she slipped into the persona of Emmett Till's mother asking herself the same question.
"I'll open the casket so they can just see. So that the world can see what happened on August 28, 1955."
Till's disfigured body was weighted down with a large fan wrapped around him with barbed wire and dumped into the Tallahatchie River.
"He showed the world what hatred can do and how much further we need to come. So that, at least, is redemption," Woodland declaimed. The audience sat for a stunned moment before they rose from their seats and applauded Woodland's performance.
TSU and Vanderbilt debaters took the stage to argue whether privacy should be valued over security. Two white male students from Vanderbilt took the affirmative position. Two black female students from TSU took the view that security is more important.
Naomi Henry and Raven Dobbins argued that gun violence and human trafficking demand more vigilance to keep the public safe. "To implement a secure private realm, you have to have someone monitoring that," said Henry.
Vandy's Erich Remiker noted that during the 20th Century, governments killed more of their own citizens than all war casualties combined. He said government snooping doesn't result in more security but less because real threats are buried in mountains of data nobody can sift through fast enough to prevent a terrorist threat.
"The affirmative is going to get up here and tell you that the government is just infringing on your privacy. No, the government is trying to make it so you as a person in this nation, as a citizen of today, are actually secure, that you are actually taken care of, making sure that you do not get targeted, making sure that you do not get shot," said Henry.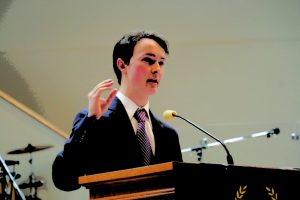 Will Newell said privacy is fundamental to a person's integrity and good health. He said privacy is the key to a democratic society and that valuing security over privacy results in harm to the very communities Henry wants to protect.
He named times when the FBI targeted black churches, mosques, the Civil Rights Movement, and more recently, Black Lives Matter.
"They have argued that minority communities do not have access to privacy. The solution to that is not to ensure that there is more security to take away privacy. It's to give them privacy," Newell argued.
Henry countered with a recent example of sexual predation ripped straight from the headlines.
"On December 30, 2017 twenty-two incidents of human trafficking were reported in Brentwood. These girls ranged from high school to college age, saying that they were lured in by private Facebook chat rooms," she said.