By Peter White and Clint Confehr
NASHVILLE, TN — Megan Barry was Nashville's first female mayor and her political star seemed destined to keep on rising. But she crashed to earth in the wake of an extramarital affair with her police bodyguard.
Barry resigned Tuesday and Vice Mayor David Briley was sworn in as her successor.
"While my time as your mayor concludes today, my unwavering love and sincere affection for this wonderful city and its great people shall never come to an end," Barry told reporters.
Barry thanked the "thousands" of people who had reached out to her, written her, encouraged her, and prayed for her. She thanked her staff and hoped that her actions would not "tarnish or otherwise detract from all of their great work."
"It has been the honor and it has been the privilege of my entire professional life to have had the blessing of this opportunity to be your mayor," Barry said. Then she quickly left the room without answering questions.
District Attorney General Glen Funk offered a plea deal to Barry and her bodyguard lover, Robert Forrest. They pled guilty to stealing public funds and each got three years of unsupervised probation. Forrest agreed to pay back $45,000 and Barry agreed to reimburse the city $11,000 for unlawful expenditures. They can get their records expunged in 2021which means their criminal records will show no felony convictions.
Had Barry refused the deal she would have been prosecuted and likely removed from office under a state law that allows judges to expel an elected official for corruption or moral turpitude. The Tennessee Bureau of Investigation apparently found evidence of both.
A Funk spokesperson said the DA's office is not pursuing a wider conspiracy case against City Attorney Jon Cooper, Police Chief Steve Anderson, or Metro's Chief Information Officer, Keith Durban. All three knew or should have known, and permitted or may have abetted, switching the accounts from the Police Department to the Mayor's Office to pay Forrest's overtime. Anderson has said he didn't know about it but was not concerned Forrest racked up so much overtime. Between 2016-2017 Forrest worked 1200 overtime hours netting him $170,000 above his base salary of $84,000. He is now retired and getting a $6,691 monthly pension. The Metro Employee Benefits Board could reduce Forrest's pension since the amount is partly based on overtime hours when Forrest was having sex with Barry.
District 12 Councilman Steve Glover, a frequent critic of the Barry administration, was not surprised by Barry's resignation.
"I felt like it would lead to this," Glover said. "This doesn't make me happy. I don't think anybody in Nashville is happy today." Glover said the most important thing now was to get behind Briley and move the city "where it needs to be."
"Today," Nashville's new mayor, David Briley, said, "is obviously a very disappointing day for Nashville and it's really tough. The public trust has been damaged and we've all been distracted from very important work that our city needs to undertake."
All Metro departments submit their budget requests this month and Briley's first big challenge will be to submit a balanced budget to the City Council. It is never an easy task and this year it's going to be really tough.
"I think the Mayor will have his hands full trying to figure out where are the priorities, what do we fund, how do we fund it, how do we begin to restore the savings account for the city," Glover said.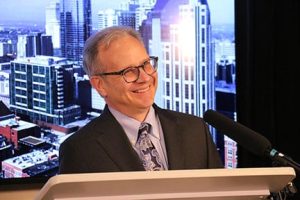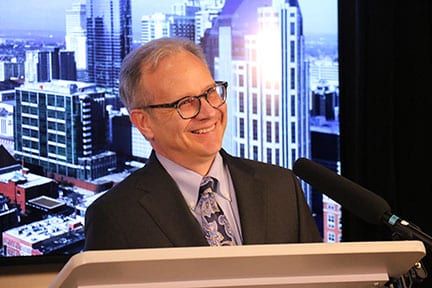 At a press conference shortly after his swearing in, Mayor Briley said he believes in affordable housing and sustainable growth. If he leaves the city, Briley said he would not travel with a police escort and would get himself to work and back home by himself.
"My administration will fight for transit solutions, neighborhoods, crime prevention our schools, public health, and to bring jobs and investment to all of our communities," Briley said.
"I think," at large Councilman John Cooper said, "there is going to be a new atmosphere. I think there's going to be an atmosphere of collaboration. David is going to be able to work with the council in a meaningful way and hopefully we will begin to adjust budget priorities to manage more closely the people's needs."
Councilwoman Tanaka Vercher, chair of the Budget and Finance Committee, said, "It's important for us to come together and stay focused. We've got work to do."
"The budget discussions are very key," at large Councilwoman Sharon Hurt said. "Affordable housing is key. Transit is key. Minority contracting is key. All of those things are necessary that we have to bring into discussion."
Briley said, "I committed to the city having a public hospital, period. I'm also committed to making sure that we spend the public's resources in the most efficient way to provide the most care for the most people."