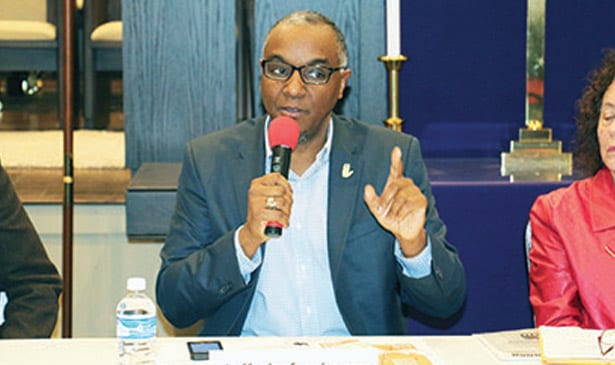 By Peter White
NASHVILLE, TN — The Nashville business community raised $30 million to push the plan and hired six public relations firms to convince voters to support it. Opponents include No Tax 4 Tracks and Better Transit for Nashville. Better Transit has three YouTube videos available here: https://www.bettertransit4nashville.com/
Building the light rail system would take until 2032 to complete but 25 miles of rapid bus service would begin sooner. Residents below the poverty level would get free bus passes.
Housing developments in transit zones along bus and rail lines would be eligible for Tax Increment Financing (TIF) if at least 20 percent of new housing is set aside for affordable housing.
The Metropolitan Development and Housing Agency (MDHA) is not technically part of city government but it is Metro's lead housing agency. MDHA would take point on building affordable housing in the transit districts but how it would operate with other city agencies and with a land bank or land trust is unclear. None of the $9 billion price tag for the transit system is dedicated to building more affordable housing.
"How can anyone ask us to spend $9 billion on light rail while providing no concrete plans for investing in more affordable housing?" said Kennetha Patterson, a tenant rights organizer with Homes for All Nashville.
MDHA has built some housing on its own and is building more. But with the resources he has, even in his wildest dreams, MDHA Chief Jim Harbison will never build enough affordable housing to meet the need for 31,000 units by 2025. He would have to rob Fort Knox.
"Anyone who tries and tries to scrape up the rent knows it has nothing to do with needing to be more frugal but everything to do with profit-hungry developers and misdirected priorities of our local government," said Patterson.
Four panelists and several other speakers addressed Nashville's housing crisis and the transit plan in short statements and even shorter answers to a list of questions posed by moderator Nell Levin, a NOAH member who works on housing issues.
"A new exodus is upon us," said Sam Lester a homeless advocate with Open Table. "Light rail without strong preventative measures is likely to make it worse," he said.
Lester said 5,000 affordable apartments were lost in Nashville between 2015-2016 and fewer than 1,000 were added. "Both whites and blacks in poverty are being driven out but it is more visible among blacks. In 12 South the black population plummeted 58% between 2002-2012," he said.
"Right now the private real estate industry has no reason to build affordable housing. Land value is sky high and real estate companies are going to build what makes the most money," said Austin Sauerbrei. Sauerbrei is an organizer for HomeForAll Nashville. It is one of 40 groups in a housing consortium called Welcome Home that launched in February.
Sauerbrei wants city council to create a revolving loan fund of $100 million a year to preserve and build affordable housing in the city. He said the council should also establish a community land trust to buy land and existing low-income apartments. They would be leased to developers who would build or rehab housing. Rents would stay low because the properties would be publicly owned.
Thirdly, a land bank should be created so undeveloped property is put to best use. Sauerbrei said city leaders, developers, and community members should decide.
Lastly, Sauerbrei said the council should pass an ordinance requiring a quarterly score card showing how many affordable units were built preserve and how many were lost in every district in the city.
Pro and Con on Transit Plan
Clifton Harris, President of Urban League of Middle Tennessee supports the Transit Plan. "People need access to good-paying jobs with good benefits," he said.
Harris said the plan would create almost 4,000 jobs and put 79 percent of residents and 86 percent of jobs within a half-mile of either a bus or train.
"Our current transportation system has become outdated and has become more and more congested causing longer commute times, Interstate gridlock, lost productivity, mounting transportation costs and more traffic accidents," Harris said.
"It's congestion that people are looking for relief from, not packing in housing along rail corridors that are specifically serving neighborhoods that are already gentrified," said jeff obafemi carr of No Tax 4 Tracks.
Carr mapped Davidson County showing neighborhoods where the light rail wouldn't go. He says the transit system would do nothing to reduce traffic congestion in those areas.
"It's unfair for people to pay the highest tax in all the outlying areas where the congestion is and to not get the benefit, especially when 8 percent of this plan puts $150 million per mile into light rail while they tell us 'Let them eat cake. Ride the bus,'" said Carr.
Harris said mass transit preserves neighborhoods and the transit plan is designed to create livable walk-able communities close to shops, schools, and jobs.
The Tennessee Tribune strongly opposes the plan and asks its readers to vote against it until a revision benefits the entire community. Publisher Miller Perry said it is an insult for black supporters of the plan to offer free passes (they have standing to do this?) for those who can't afford to pay for bus service and then take a train that doesn't service District 1. Miller Perry said those blacks who sit in jobs cre-ated by the previous mayor are paid at least $100,000 yearly with no supervisory responsibility and sit in the basement of an historical building, are selling out their poorer black broth-ers and sisters, and should be ashamed of themselves. They ought to get out of that basement before they talk to me. Harris, the Urban League Director and the appar-ent self-appointed Negro leader in Nashville, said the plan would create about 4,000 jobs and put 79 percent of residents and 86 percent of jobs within a half-mile of either a bus or train.   Jungle Juice talk.
Until the Nashville city goverment hires African Ameri-cans who are not  window dressing, but hire them into respon-sible positions, we will not buy into this transit sys-tem based on the lure lie of 4,000 jobs. Mr. Urban League, we want 4,000 jobs now or signed contracts for the first 4,000 jobs that pay at least $75,000.  Harris' comment about creating a livable walk able community close to shops, schools, and jobs – "Jungle Juice talk" where do you come from? In District 1, as Harris should know, Blacks folks have been lied to and tricked when the city dump was to be moved  yet  it took more than a quarter century to get rid of it.  The Tribune challenge's Harris on how many jobs has his Urban League found for Black folks in this HBCU town with more educated Black folks than in 95 percent of the cities in America? Miller Perry suggested that Harris join forces with the top official at NES, who is a black man with black members on his board and get NES to hire black male college graduates into its almost 'lily white' job force, instead of hiring non-educated white males to supervise the few TSU graduates who happen to be black females. Miller Perry said until Harris does his homework on a racist Nashville government don't spread that lie about 4,000 jobs that Nashville wouldn't deliver to the Black community.  Final example another lie  Nashville has going is the Disparity Study – black folks have been going to meeting after meeting for years hoping they would get a government contract.  This has been going on for years, no government contracts – just the city waving a carrot and insulting the Black Community. Now here you come with your no influence self promoting 4000 jobs for the Black community.  Jungle Juice.
Remember, we are nothing unless we can hold this Transit system accountable. The way we hold this system accountable is to vote NO until the plan is revised and we are at the table.