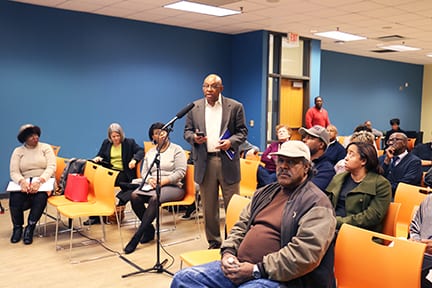 By Peter White
NASHVILLE, TN – Metro has hired an Atlanta firm, Grifffin & Strong, to conduct a study of the city's contract-letting. Two previous disparity studies in 1999 and 2004 documented the city's dismal record in doing business with black firms. As a result of those studies Nashville started a Procurement Nondiscrimination Program (PNP) in 2008.  But after a decade, its critics call it a dismal failure.
"It's not about them finding new facts. It's about political will. Is the city willing to correct years of disparity by implementing some of their recommendations?" asked former Councilman Don Majors.
"We are letting the process be used cynically and not what it's supposed to be which is to encourage minority and women-owned businesses," said At-Large Councilman John Cooper.
"This is a process created by the federal government that if used correctly can be deeply beneficial to a lot of people in this city but we have to not let it be manipulated."

As an example, Cooper said Isaac Thompson of Live Nation, the leaseholder of the Ascend Amphitheater, touted their 30 percent minority participation to the Parks Board last week. But Cooper said one of the minority firms Live Nation uses, Trojan Labor, provides day laborers with no benefits and has a poor safety record.
"People are hired and fired on the same day so there is no liability, no skills training, and apparently they have a bad safety record. If we are in an environment when Trojan Labor is being cited as one of the benefits of their business relationship with Metro then we are in a system that's very broken it would seem," he said.
At-Large Councilwoman Sharon Hurt said the diversity study is important because the number of minority contracts with Metro is unacceptable.
"What I'm going to do is work more closely with the Business Assistance Office (BAO) to see what it is that we can do because I know they are understaffed and they don't have the people that they need in order to try help change things," she said.
Sterling Johnson, Deputy Project Manager with Griffin & Strong, was at the Bordeaux Library last week. He gave a presentation and talked about how the company will conduct the study.
"We try and make sure we engage the community. We see people who are closest to the problem are often closest to the solution," Sterling said.
"We're committed to equity. We are committed to integrity in everything that we do and we try and make sure our process is transparent," he added.
Karen Harrison owns a small company that does water and waste water engineering. She started the firm two years ago.
"I came because it is my observation that it's very difficult for very small firms to win work with metro as a prime (contractor)," Harrison said.
Harrison said that small firms just can't compete with bigger companies that have more than fifteen employees. "They get higher scores than the people who just have two or three. In some cases it's valid. In others, it's not," she said.
Harrison said she has done a lot of work for Metro as a subcontractor with larger firms that get the lion's share of city work.
She said the BAO helps minority and women-owned firms work with the city but it doesn't have anything to do with the selection process. The Chief Procurement Officer, Michelle Hernandez Lane, makes those decisions. Lane once ran the BAO, was the Mayor's  Chief Diversity Officer, and became the city's Purchasing Agent in August 2017.
"It's the Purchasing Department that doesn't take a strong enough role in making the playing field is level," Harrison said.
Towards that end, District 5 Councilman Scott Davis is preparing a new
PNP ordinance he plans to introduce at the City Council meeting on February 27.