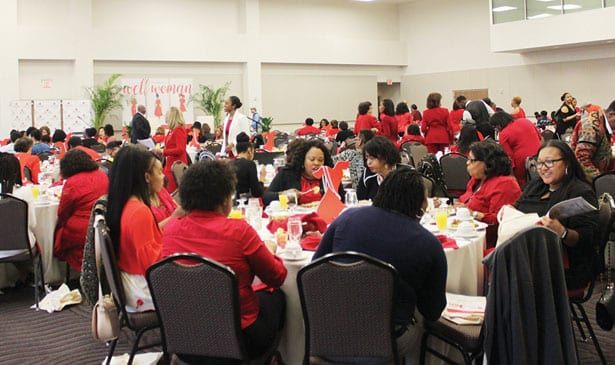 NASHVILLE, TN — On Saturday, February 24, 2018, nearly 250 guests attended the "Go Red Women of Color Breakfast," celebrating women who have been impacted by heart disease, and learning about cultivating a heart-healthy lifestyle.
"Welcome, beautiful women in red," said Phyllis D.K. Hildreth, J.D., first lady of Meharry, greeting attendees to the program. "It is a delight and it makes my heart sing."
The "Go Red Women of Color Breakfast," in conjunction with the American Heart Association and the "Go Red for Women" awareness campaign, creates a culture of health for families. "This is a part of what we do and what we believe in at Meharry," said Saletta Holloway, Ed.D., co-chair of the Go Red for Women movement and senior vice president for administration at Meharry. The event was held in The Cal Turner Family Center for Student Education on the Meharry Medical College campus.
Murfreesboro, Tennessee cardiologists, Kelly Davis, M.D. and Tina C. Gresham, M.D., served as guest speakers and provided critical information regarding preventive measures that protect against heart disease.
"Poor diet and lack of exercise can lead to obesity, high blood pressure and diabetes, which are the three major causes of heart disease and stroke, particularly in the African-American community," said Dr. Davis.
Dr. Gresham stressed the importance of changing our perception of what healthy bodies look like. "When I moved to the South, the image of being healthy was being full [figured]. We need to change our image of what wellness and health looks like," she said.
Both Dr. Gresham and Dr. Davis stressed the importance of visiting a primary care physician when something about our health and bodies feels wrong or different.
During breakfast, the Meharry Gospel Choir provided musical selections, with the assistance of Meharry's executive vice president, Dr. Peter E. Millet, on bass guitar. Attendees also participated in a touching red dress stroll, a Zumba activity and learned some simple yoga poses to do at their desks. Rev. Robin Kimbrough, Meharry's chaplain, provided the invocation and benediction. "Let our hearts be the sanctuary," she said.
Mistress of ceremonies Majornette Jefferson, office of administration, and Michelle Viera, assistant vice president of alumni engagement, served as co-chairs of the event.