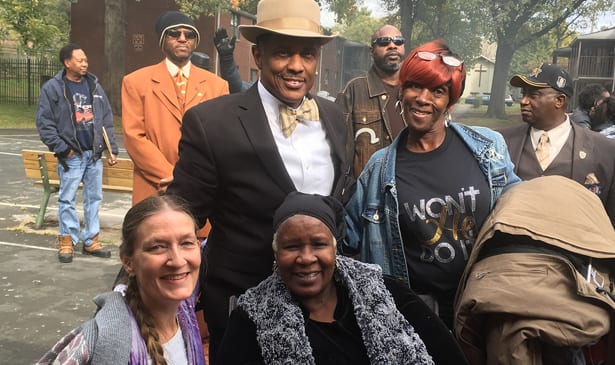 No shooting — No Murders — Just LOVE
By Staff Reports
NASHVILLE, TN — Cayce Place, a public housing development located in East Nashville, was the site of a Hallelujah Festival this past weekend to celebrate the value of all lives and to share love.  Pastor Howard Jones, Senior Pastor of Fairfield M. B. Church/Celebrate Life and candidate for State Senate, District 19, said, "This is our ministry to minister outside of the church walls and to bring the church to the people."
Approximately 250 people attended the event.  The goal was to bring love and hope to the residents, who have experienced murders of teenage girls recently.  Residents talked with church members, and felt the love and support being extended.  Deacon William Pierce, chairman of the Fairfield Deacon Board, said, "This is a revival to "Stop the Killing" and focus on love."
Residents from throughout the Cayce Place community celebrated with love and joy and were exuberant about a well-orchestrated event, created just for them. "Our goal is to be a support for the Cayce Place residence on a continuous basis, not just when a shooting occurs. We want to be a part of this community and witness to them all the time," said Fairfield Deacon Maurice Southall.
It was a festival filled with good and loving conversation, nutritious food ,and fun activities, as well as clothes and coats. Several youth came to the festival covered in blankets and left with coats.  "The coats were for comfort and to cover them from harm and danger," said Pastor Jones.
The event coordinator,  Terrell Packard, said, "It was our goal to reach out to the residents and let them know they are a part of our lives. These residents are not 'those people;' they are people — our brothers, sisters, cousins, nephews, nieces, and so on.  They are a part of us and we are a part of them."
Jones said as a candidate for State Senate, his goal is to show all people they can have hope and they are loved.  So many are apathetic about society, life, and especially voting. " I cannot legislate love, but I can show people there is love in the world and together we can create legislation that makes their lives better in education, economic empowerment, efficient and affordable housing, and employment. That is my commitment and why I am running for this office."
The high point of the event was a message of hope from Pastor Jones.   In a short sermon of "Faith Despite the Fall," he expressed that hope is not gone.  "You may grow up in what is considered to be a bad area, but that does not mean the bad area's activities have to be in you," said Pastor Jones.
The message ended with a prayer gathering, which turned into a euphoric melody of words, song, and loving touches.  As Pastor Jones led the prayer session, prayer warriors of the church joined in and reached out to residents individually and prayed with them personally.  It was a choir of prayerful words that elevated higher and higher with Hallelujahs, Praise God, and Thank you Lord.  It was as though voices were being sent from Heaven with praise and thanksgiving.  It ended in a crescendo from Pastor Jones, overlaying all the individual prayers, with a collective prayer with outstretched arms, as if to envelope all the people and all the prayers petitioning to God for protection and guiding everyone to a place of forgiveness, loving God, loving oneself, and loving one's neighbor.  It truly was a Hallelujah Festival of Love.