By Tribune Staff
NASHVILLE, TN —  The Board of Directors of the R.H. Boyd Publishing Corp. unanimously voted LaDonna Boyd to head the 121 year old International Company.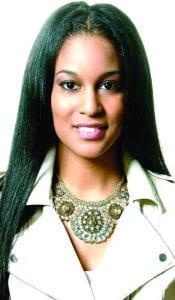 She succeeds her father, Dr. T.B. Boyd III, president and chief executive officer of the corporation.
Her unanimous selection makes LaDonna the first woman to head the R.H. Boyd Publishing Company which in itself is an historic story of growth from humble times to remarkable prosperity.
LaDonna Boyd is a native of Nashville, TN, where her family has resided for the past five generations, leaving a significant impact on the economic development and cultural history of the city and beyond.

She is now CEO of one of the largest publishing centers in the Southeast. The Boyd lineage is one of desire, common sense, hard-work, self-determination and, as a result, four generations of prosperity.
Her great-great-grandfather, Rev. Dr. R.H. Boyd, founded three  continuously operated  minority owned businesses in the country. Those businesses are Citizen's Bank, National Congress of Contemporary Christian Training, and R. H. Boyd Publishing Corporation.
Richard Henry Boyd, for whom the company is named, was born a slave. He could not read. He could not write. Yet this did not stop him from seeing the light of opportunity when there was one. After the Emancipation Proclamation was signed and he "won" his freedom, he fearlessly pursued the sides of himself that were not allowed to exist in the mind of a slave.  After moving to Texas he worked as a cowboy, a foreman at sawmills, and he learned to read and write.
Richard Henry respected the importance of being able to see one's self reflected in the imagery of the word. He reacted as any good publishing mind would: he responded to a need. He gathered all the people he could find who were educated and had biblical knowledge, and they began to write religious texts for African Americans.
In the 1970s, the publishing company gave generous financial support to the National Baptist Convention and continued to give to Martin Luther King, Jr. and the Civil Rights Movement. When Dr. T. B. Boyd III, was appointed president and CEO after his father passed, he simultaneously served as Chairman of the Board of Directors of Citizens Trust and Saving Bank.
LaDonna serves on the Board of Directors at Citizens Savings Bank and Trust, which was founded by her great-great-grandfather in 1904. LaDonna is  member of Alpha Kappa Alpha Sorority, Incorporated, and Beta Gamma Sigma Honor Society, as well as well as many other local charities.
She is a graduate of Spelman College, where she earned her Bachelor's Degree in Economics, with a minor in French. She is also a graduate of Tennessee State University, where she earned her MBA with a concentration in Finance. She has served on the TSU College of Business' Economics and Finance Advisory Board since 2012. Currently, she is a candidate for the degree of Doctor of Education in Organizational Leadership at Pepperdine University, where her studies focus on corporate technology implementation, andragogy (adult learning), women's studies, and leadership in the Black church.