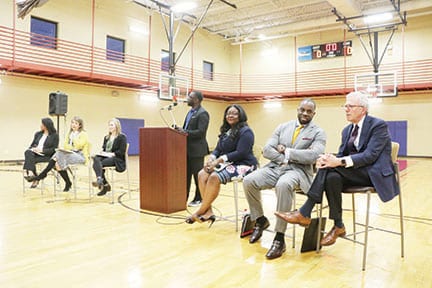 NASHVILLE, TN — Less than two weeks to go before voters decide the fate of the $9 billion Transit Plan on Election Day, May 1. For months now, sides in favor and those against the Transit Plan have organized forums, rallies, meetings, and debates. They have made arguments, printed posters, and made videos. There have been scads of newspaper articles, advertisements, and dozens of interviews about the plan.
Last week at the Bordeaux YMCA about 100 people listened to six pro-transit advocates, including former Mayor Bill Purcell. Some in the audience said they were still undecided which way they would vote.
"We believe that cities like Nashville should have the ability to get the resources they need to improve the transit conditions in their cities," Purcell said. He was referring to money Nashville might get from the state if the referendum passes.
Conscious Conversation, a civic group, organized the discussion among six panelists. They held a community meeting about General Hospital in January.
Toks Omishakin, Deputy Commissioner of Tennessee Department of Transportation (TDOT) said that his agency has taken a neutral stand on the referendum officially but he was pleased that voters will be making a transportation decision for themselves at the ballot box.
"As a Department we believe in transit," he said. "We fund transit to the tune of about  $50 million a year and about 20 percent of that goes to Nashville," he said.
Ashley Northington, Public Relations Director of Denor Brands in East Nashville, served on a Transit and Affordability task force chaired by Mayor Bill Purcell.
"I would like you to know the recommendations we made were to make sure that folks like you and me weren't left out," she said.
Northington said the current plan grew out of earlier mass transit efforts, Nashville in Motion in 2012 and NashvilleNext in 2015.
She said the present Transit Plan was developed after getting input from 20,000 residents who highlighted what they wanted transit to look like in Nashville.
"People said they wanted full sidewalks. They said they wanted buses and they even wanted light rail," she said.
Members of the audience asked questions about higher taxes, and the economic impact of the transit system, its affects on family budgets, commute times, and gentrification.
Mary Beth Ikard from the Mayor's Office of Transportation & Sustainability said half the tax burden would not fall on Davidson County residents but on visitors and tourists. She said the system would cost families about $5 a month in its initial phase and rise to $10/month after five years.
Erin Asher, an Economic Analyst with Wilmot, Inc. said it's a lot cheaper to use mass transit than to drive a car to work.  She said it would save commuters $43 million over 20 years if they didn't drive. Also. fewer greenhouse gases would generate $7.2 million in savings annually by 2032.
"Even if you are sitting on the bus you can check your emails, you can work. You can do productive things," Asher said.  Being stuck in traffic on the Interstate is costly in time, money, and has air quality costs.
Asher said the transit system would increase job accessibility by 30 percent and the average commute time would be 30 minutes.
Those projections are based on the Let's Move Nashville Plan, also called the Transit Improvement Program, which voters will chose or reject on May 1. But it is not the only transit plan.
Two Vanderbilt grads published a 41-page Cheaper Faster Greener Better transit plan last week.  Bruce Campbell and Andy Martin say their plan will reduce commute times and won't require new taxes.
It dumps the idea of a light rail system and a downtown tunnel. Instead, they favor an expanded bus system like the one in Indianapolis. Commute buses would run on the shoulders of the Interstates.
For a city that is spread out like Nashville they say buses are the best alternative and a lot cheaper than light rail. Their plan can be found here: https://www.scribd.com/document/375763647/Cheaper-Faster-Greener-Better-Better-Transit-Alternatives-for-Nashville