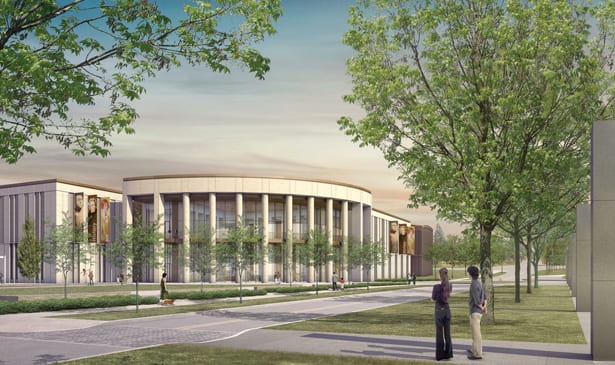 NASHVILLE, TN — In preparation for its move to its new location, the Tennessee State Museum will have a last farewell with refreshments and entertainment in its current location at the Polk Center on Saturday May 5th from 10 am – 4 pm.
The party's theme is called "Pack the Wagon" featuring the museum's "Living History" programming strategy. Visitors will find a Conestoga Wagon and staff members dressed in historic costumes as Civil War soldiers, WW I Doughboy, a Longhunter, a frontier woman, a Woman Suffragist and others. The Conestoga Wagon can also star with guests in photos at a "Selfie Station" where visitors can photograph themselves and others with the wagon. Guests will have an opportunity to pick up old exhibit catalogs and posters and find discounts at the Museum store.
The new Tennessee State Museum building will be open in October 2018 and will affect the Jefferson Street corridor and the neighborhoods surrounding it with more traffic and visitors to the neighborhood. The new structure is massive – taking up much of the block along Rosa Parks just north of the Farmer's Market up to Jefferson Street. The 137,000 square foot-museum will be just steps from the Bicentennial Mall, the new Sounds stadium, and a new Tennessee State Library and Archives building which will be at The Bicentennial Mall at the intersection of Sixth Avenue N and Jefferson Street extending to Fifth Avenue N and Jefferson.  The new Tennessee State Library and Archives building is slated to open a year later than the Museum in 2019.
During the intervening months when the Tennessee State Museum staff will be busy moving artifacts and completing installation of the thousands of items into the new space, the Museum will continue to offer its popular "Lunch and Learn" programs at locations such as the Famers' Market and other locations. The museum currently hosts 115,000 visitors a year and the new museum is expected to host more than 220,000 a year.
The museum will trace the history of Tennessee through a series of linked galleries – starting with its geology, "First Peoples" tribal groups, "Becoming Tennessee," "The Civil War," "The Modern Era," and a "Survey of Tennessee's Musical History" along with rotating gallery exhibits.  A new 250-seat Digital Learning and outreach Center will feature lectures and events both live and digital with schools, museums and colleges across the state.
The Tennessee Tribune will meet with Tennessee State Museum's director, Ashley Howell to hear what programming and services the new museum can offer to the state's African American community and the surrounding neighborhood.