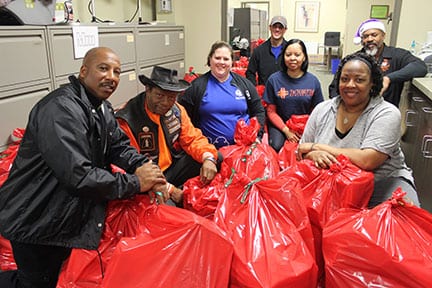 By Clint Confehr
NASHVILLE, TN — Christmas for 520 kids in 300 families got brighter last Saturday when they received toys and practical gifts from a collaboration of volunteers.
"Everybody plays a certain part," said Reggie Miller, a 27-year veteran of Metro Nashville Police and spokesman for the 20-year-old program distributing bicycles, playthings and food to needy families.
Businesses, government employees and members of social organizations — people who become aware of families in need — provide names and addresses of families. Metro Social Services employees groom the list and send invitations for the event held Dec. 16.
Dr. Jacqueline Mitchell participates. Distribution is at Metro Action Center, 800 2nd Ave., North. Mitchell heard Miller talking about the distribution. He asked if she knew people in need. "I had four families," said Mitchell who runs Integrity Dental Care in Nashville. "They call it a hand-up not a hand-out. After two years [of help including Thanksgiving] you should be able to take care of your self."

Miller, president of the National Black Police Association and NBPA's local chapter, said officers see people in need, so they coordinate with the distribution.
"We have partners who know the needy people instead of those who just want something," Miller said. One example is a grandmother with custody of five grandchildren whose mother became overcome by drugs and is incarcerated. The grandmother "didn't have any funds to do anything for Christmas, and we consider them her children," Miller said. The grandmother "wasn't going to have it any other way."
Demetria Vaughn is a coordinator at the event, Miller said of a supervisor at Metro Social Services. "We recognized the vital role that Metro Social Services play in making this event a success." Social Services: stores toys as they're collected, picks them up from donors; shops for, and buys the gifts. After all the names are submitted, categories are determined on what's needed for the number of boys and girls in the various age groups.
"The average is about five, but one family had 17 kids. That's out of our normal scope, but we provided for them," Miller said.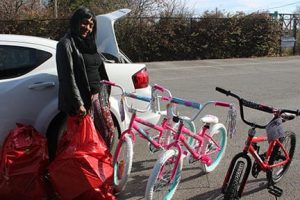 Metro Social Services writes and sends letters to families that are to receive the help. Metro Social Services also verifies the need of the recipients.
Tennessee Bikers Education Association members participate. "Most people have a perception about bikers," Miller said, adding that the motorcycle club helps with various community events. "So we ended up teaming up together." One of the leaders of the TBEA is Frank (Vampire) Keeling. "Vamp is one of the coordinators," Miller said.
Federal Express is one of the sponsors, as is GEODIS.
"Jackson Lane with GEODIS, [a company in the ware- housing and distribution business] is helping us," Miller said. "Monetary gifts from GEODIS and FedEx are greatly appreciated because frequently that's what makes the difference in our ability to help as many needy families as we can."
Rachael Mullins of Sav-A-Lot grocery stores is also recognized as a big helper for Santa. "Save-A-Lot provided food, making it cost effective for us when we purchase things at a very reasonable price," Miller said. "They do their best. They might donate all the cake for the event and providing the best price they can on turkeys."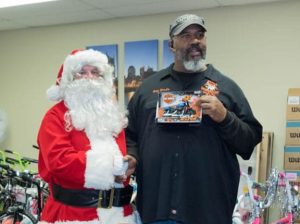 The collaborative effort also provides food for Thanksgiving. Such generosity went to all who were contacted in November. Some food remained available, so it was distributed for Christmas. "So there were people who received a surprise bag for Christmas. They didn't know they were getting food as well," Miller said. "For Thanksgiving some 300 families were provided food that they cooked themselves."
Meanwhile, "Tennessee State University is the distribution location for Thanksgiving," Miller said. "The Salvation Army provides us more food that we may still need at Christmas."