NASHVILLE, TN — America's three days of live-streamed violence last week belies the 1970 song "The Revolution Will Not Be Televised" and, like other municipalities, Music City protested.
Rapid-fire killed five Dallas policemen during a sniper attack on any police officer July 7 for the shooting deaths of Philando Castile in a Saint Paul, Minn. suburb July 6 and Alton Sterling in Baton Rouge, La. July 5.
"We don't want our police … judged by what happens at other police departments," Greater Faith Missionary Baptist Church Pastor Michael Joyner said last Friday morning.
That evening, nearly 2,000 Middle Tennesseans, peacefully starred on Broadway and the front lawn of Davidson County's Courthouse and City Hall during a vigil for victims of violence.
"I was moved by the large open circle," Scientology Church Pastor Brian Fesler reported. "It felt as if we were all coming together for a discussion rather than a mob. Participants bore a wide range of skin tones; clearly, Black Lives Matter to an equally-wide range of our population.
"The police presence on the perimeter made the scene feel safe while demonstrating respect for those demonstrating," Fesler said. "Music City can be the model city for human rights and dignity."
Black Lives Matter organizers started the vigil meditating for peace and centering people on the moment. Speakers were mostly in grief and upset.
"A Muslim lady came on quiet," photographer Joyce Perkins reported.
The lady's rage grew, inspiring her rainbow audience.
Forty volunteers wearing yellow vests stood watch ready to intervene if there was misbehavior.
"We can settle any differences we may have without violence," Police Chief Steve Anderson said Friday morning.
State and public defenders attended as participants, wearing T shirts to reflect their profession and unity.
Perkins saw a "passing of the torch" from a generation of Civil Rights activists to those protesting injustice.
"Usually at things like this, there are people … who were doing this in the 1960s," Perkins said. "Here, younger people led the event. Some … at the vigil … had never been to a demonstration before… This is what democracy looks like."
The age-range for those at the vigil was from children in strollers to seniors in their 70s, or older.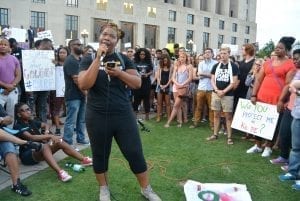 Many "had a story about a bad experience with police," Perkins said. A woman lost the policeman who patrolled her block in the 1970s. He was shot dead, shopping for food. Another lost a brother to violence. Another lost a son.
The vigil and stopping Broadway traffic were civil disobedience.
"Generally, a park permit is required for an event like this, but we are not enforcing that," Mayor Megan Barry spokesman Sean Braisted said. "Nobody asked for a permit … Black Lives Matters [sent] out notices about the vigil. They have not been working with Metro on planning … Police [were] on hand to provide … security."
Americans "are rightfully disturbed" by the shootings, Barry said, commending Metro police training and restraint.
Fairfield Baptist Church Pastor Howard Jones commends Metro Police Officer Matthew Cammarn for not drawing his weapon when punched and kicked at Casey Homes nearly three months ago.
Clergy blame poverty, fear and racism for the shootings.
"We can't guarantee an incident like this could never occur in Nashville," Barry said. "We can continue to promote a culture of responsible, community-oriented policing that builds trust and support."
Metropolitan Interdenominational Church Pastor Edwin Sanders said, "We did not come to this place overnight."
America's been "sleepwalking," Rev. Enoch Fuzz said, since Trayvon Martin was killed in February 2012.
Thinking ahead, retired TSU Bands Director Ed Graves' daughters, who live in Cleveland, Ohio, say they're coming to visit him in Nashville during the National Republican Convention.
Mt. Zion Baptist Church plans voter registration and rides to the polls, Bishop Joseph Walker reports.
Joyce L. Perkins contributed to this story.