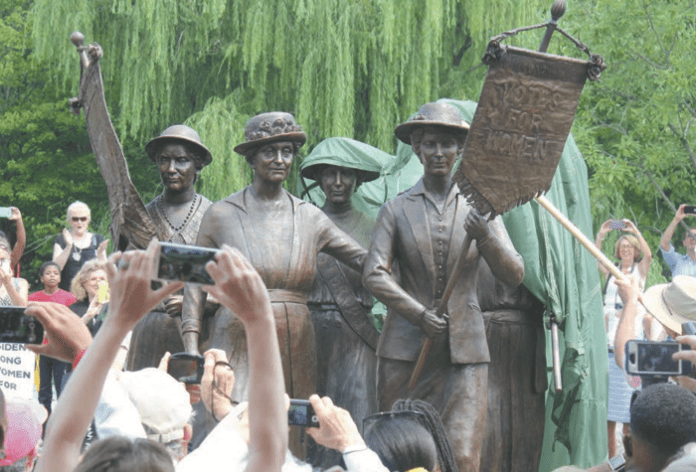 NASHVILLE, TN — Leaders of Tennessee Woman Suffrage Monument Inc. and their sculptor have unveiled a monument depicting five women who campaigned for women's right to vote.
Also hailed Aug. 26 in Centennial Park were:
• A memorial planned in Knoxville to state Rep. Harry Burn's tie-breaking vote for suffrage;
• Hillary Clinton's presidential campaign;
• The Suffrage Monument's planned move at Nashville's Parthenon; and,
• Three modern trailblazers named on the statue's base; Jane Eskind, Beth Harwell and Lois DeBerry.
"Lois would say, 'Elect more women. Women get out and vote. Women support women, and women, be women,'" former House Speaker Pro Temp DeBerry's widower, Charles Traughber, said.
"When women have something determined on their mind, they're going to achieve it," Traughber, said.
Mayor Megan Barry said Frankie Pierce, one of five women portrayed in bronze, was born a slave in Smith County.
Pierce addressed Ten- nessee suffragists' convention in 1920 saying, "'We're asking only one thing, a square deal,'" said Barry, noting 96 years between ratification and Clinton's presidential campaign.
Also portrayed are Abby Crawford Milton of Chattanooga, Sue Shelton White of Jackson, Ann Dallas Dudley of Nashville, and Carrie Chapman Catt, national suffrage leader who established campaign headquarters at the Hermitage Hotel.
Dudley led a parade from the Capitol to Centennial Park. Thousands joined her to demand women's right to vote, Barry said. "When opponents said only men should have that right, because only men could bear arms she… [replied] 'Yes, but women bear armies.'"
Speaker Harwell reported a male lawmaker predicted failure for what's accomplished.
Nashville artist Alan LeQuire, sculptor of Musica at the Music Row Roundabout, said the suffragists statue near his Athena in Nashville's Parthenon "feels like an extension of the same thing. Athena represents the type of women we are honoring today… intelligent … fierce and a warrior.
"Of all the commissioned work I've done, this … has been a joy from day one, mainly because of this group of nine Athena women that I've worked for for the past two years," LeQuire said. "They set an example for me every day." Tennessee Woman Suffrage Monument Board members are: Tribune Publisher, Rosetta Miller Perry, Nashville; Board President, Paula Casey, Memphis; Vice President, Adrienne Pakis-Gillon, Germantown; Treasurer, Patricia Pierce, Harriman; Secretary, Yvonne Wood, Lebanon; Jacque
Hillman, Jackson; Nashville leaders: Linda Knight, Alma Sanford, Janis Sontany; and founding board member Karen Johnson.
A man broke the 48-48 tie in the House to make Tennessee the 36th of 48 states for the 19th Amendment. East Tennessee Rep. Harry Burn's vote infuriated anti-suffragists who threatened to rough him up. Burn escaped on a third floor Capitol window ledge, into another room. He hid for hours in the at- tic, Knoxville-based attorney Wanda Sobieski told the Tribune.
The uproar prompted the governor to activate national guardsmen, Sobieski said. Burn voted for ratification because of a letter from his mother, Febb Ensminger Burn, who concluded "…be a good boy and help Mrs. Catt put the 'rat' in ratification," referring to a suffragist in the statue.
A grand jury inquiry was dropped when Burn displayed his mother's letter, Sobieski said.
"This story … deserves a special place in Knoxville," the Suffrage Coalition says of its plan for a Burn memorial depicting Febb and Harry Burn. Donations are accepted at 520 W. Summit Hill Drive, Suite 1101, Knoxville, TN 37902 and at https://etf.givingfuel.com/easttennesseefoundation.
The Tennessee Woman Suffrage Monument Inc., receives donations to TWSM Inc., 405 Westland Drive, Lebanon, TN 37087. The monument was planned to be on the Tennessee Legislative Plaza.