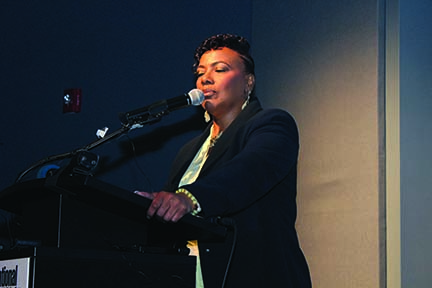 By Clint Confehr
MEMPHIS, TN — Dr. Bernice King, daughter of America's most revered Civil Rights leader, recognizes a continuation of her father's work, and former U.S. Attorney Eric Holder sees her father as one of America's "second founding fathers."
These insights came at the National Civil Rights Museum in the Lorraine Motel where the Rev. Dr. Martin Luther King Jr. was assassinated 50 years ago Wednesday night. Church bells started ringing here 39 times and continued from Anchorage, Alaska, to Jacksonville, Fla., and in the Vatican, Germany and India to represent each year of King's life.
His legacy is amplified by new museum exhibits where Bernice King and Eric Holder spoke on Monday before those exhibits opened.
"He taught us the importance of … nonviolence; not only as a tactic, but as a way of life," Bernice King said.
"So here we are with all of the challenges that we are faced with; we have in this polarized, divisive climate, not just in this nation, but all across the world … [and] … the focus is around the legacy of Martin Luther King Jr.
"My mother always said, if we are to create the beloved community, there's no escaping Martin Luther King Jr."
Bernice King noted students' reaction to school shootings and she advocates a new program starting in Atlanta, MLK 50 Forward, a way to activate people.
As for movements, she recalls her father's advise, "'You have to keep the messaging and the pressure on.' One of the tragedies, as Daddy said is that, 'The children of darkness are often more zealous and determined than the children of light.'
"I'm hoping we have stepped into a season where that reverses — that we prove this prophet wrong. That's the only place I want us to prove him absolutely wrong…
"These are revolutionary times as we speak," she said.
In a separate appearance Monday afternoon, one of President Obama's attorney generals recognized an exhibit including Riverside Church where King "really starts alienating" people; taking the movement internationally and  against the Vietnam war.
Holder toured the museum to "immerse myself in the legacy of a great man," he said, recognizing the museum speaks of several Civil Rights leaders.
"We are in the presence of, what I call, a small group … the second founding fathers. These men and women remade the nation," Holder said. "They helped evolve and change it and it is fundamentally different from the nation before the Civil Rights movement. The nation is better and a system of American apartheid was brought down by them. The nation was made more fair, more just, more equal.
"That's why … I call him … one of the second founding fathers," Holder said of King.
Bernice King said it was "especially meaningful" for her to be at the Lorraine Motel this week because she couldn't be with her parents when they were here 50 years ago.
"When we started commemorating the 50th anniversary in 2013, that was God's way of reminding us of the unfinished work of the movement that my father led," Bernice King said. "He challenged us to learn to live together as brothers and sisters, or together we will be forced to perish as fools."
Statements from the slain Civil Rights leader are printed above exhibits. One says, "If America does not use her vast resources of wealth to end poverty and make it possible for all God's children to have the basic necessities of life, then she too will go to hell."
Looking forward with hope, Bernice King noted changing times.
"I think we are in that season now where we're going to have to learn to live together because there's no way in the world that any of us will think alike," she said, noting there has to be nonviolent coexistence or violent co- annihilation.
She's still looking for closure from losing a father and then her mother because Coretta Scott King "had a tremendous calling to help institutionalize his legacy …"