By Clint Confehr
MEMPHIS, TN — Innercity school children here came to attend the 50th commemoration of the death of the Rev. Martin Luther King Jr.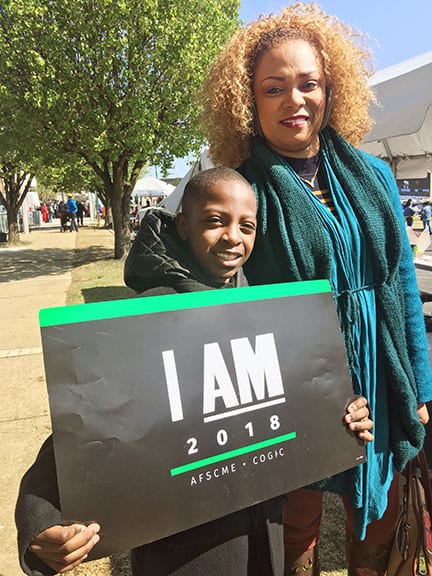 Shawn Anderson, chief operating officer of Word of Faith Christian Acadmy and daughter of the school's founder, Dr. Gene Crockett, said the students "were prepared" for the day, having been taught lessons "on social justice — how far we've come and how far we have to go…
"They're taught that education is critical to achieving social justice and equality," the school's COO said of the 20 students with her. Total enrollment is 100.
She was hoping that many children would visit the museum "because this is so important."

As for Anderson's family experience regarding the assassination, she said, "My mom told me she was pregnant with my older sister" when King was killed. "Mom called back to Memphis to her mother, and that's when my grandmother told her Dr. King was shot."
The "proverbial weather was similar" the night before King was shot, Anderson said, reporting rain fell the night before that day in 1968. Rain fell in Memphis last night, and that tempered her mood for the day.
"And now, I believe the mood of the city is similar" to what people here felt during that historic time in this city.
"This group here, my students, think critically about how they can affect change," Anderson said. "When they march, they march purposefully."
Travis McNamee, a teacher at Word of Faith Christian Acadmy, said the children "are gaining more knowledge on Dr. King. Everybody has heard of him, but I think they are gaining a realization of his impact."
Some of the students carried pinwheels. Others had paper carnations. At the school they have a garden to teach them about growing food.
That's because "Urban children have no concept of food coming from the ground," Anderson said.
"The children eat at the store" near the school, Anderson said. "There are no groceries in the innercity. They eat corndogs, pizza and hamburgers from those stores."
Anderson and McNamee spoke as the children stopped to get seeds from a nonprofit organization that advocates home gardens for food.