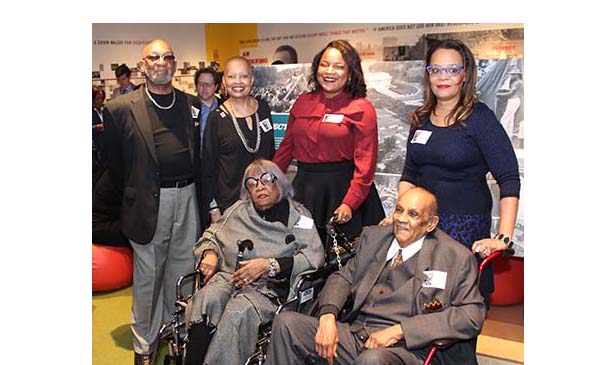 By Clint Confehr
MEMPHIS, TN — Carolyn Bailey Champion's parents ran the Lorraine Motel where Martin Luther King was assassinated, but he wasn't the only victim of that day 50 years ago.
Champion's mother, Loree Catherine Bailey, suffered an aneurism that night and never woke up, according to the daughter who was 33 then and pregnant with her daughter, Catherine Loree Champion, now several months shy of 50.
MLK50, the moniker for a series of events commemorating the 50th anniversary of King's death, drew thousands of people to events here this week. Carolyn Bailey Champion and her husband, Dr. Charles Champion, a retired pharmacist, gathered at the National Civil Rights Museum with relatives this week because of the historic events at the Lorraine Motel which houses the museum.
"I was somewhat sheltered," Mrs. Champion said of her childhood while growing up at the motel. "My mother did not allow me to get involved with guests, so I had a normal life.
"When Dr. King was shot, I was married, and I had just gotten home from work, and wasn't (living or working) at the hotel at that time. Just about the time I got home right after he was shot … my mother called me" about the shooting, Champion said. She wanted to go to the hotel, but was told, "The streets are full."
Those mother-daughter phone calls continued about every 15 minutes until Champion called and didn't get an answer. "That's when I discovered that she had an aneurism."
A family friend called Champion, asking about her mother, so she called the hotel. At that point, traffic didn't matter. "By the time we got there, they'd taken her to the hospital."
Walter and Loree Catherine Bailey owned the Lorraine Motel. Walter Bailey died at age 73 in 1988.
Carolyn Bailey was raised at the hotel. She had what her mother wanted for her; a "normal" childhood.
"We had our private areas of the house," Mrs. Champion said. "I'd like folks to remember that the Lorraine was just like the bed and breakfasts of today. We housed out-of-town guests and we fed them. We were one of the only places where, at that time, Afro-Americans, you know, could have that kind of facility."
Champion knew King.
"I did meet him because he had stayed there over the time because of the struggle."
She restricted her conversations with him to small talk such as hello and good morning because her mother taught her "to keep her distance from guests."
While Dr. King was a major leader of the movement, Mrs. Champion said, "That's so, but we had a lot of leaders, to me. There were a lot of people who stayed at the hotel … but I was sheltered, like I said, and you have to remember, at that time you had the Black Power Movement … so I kept away from that."
She also felt that it was "Dr. King's choice" to move from the Holiday Inn on the bluff and into the Lorraine, a downtown motel for black people during the era of Jim Crow laws.
Asked for an example of what's changed because of Dr. King, she replied, "If I wanted to stay at the (Holiday Inn) Rivermont (adjacent to Riverside Drive), I could have, where I used to couldn't. I had to stay at the Lorraine because there was nowhere else to stay. I can go and eat wherever I want to eat … Everyday life is different. I think we do still have a little prejudice but … we have more freedom than we used to have."
He made things possible for us to be able to do things that we are able to enjoy now. It's an unfortunate thing that he was killed in my parents' place of business, but there's nothing we could have done to prevent it. If we could have prevented it, we would have."
"King and my parents had a relationship," she said. "If he wanted turnip greens and fish, my daddy would fix it for him. That was the relationship."
White people didn't stay at her parents' motel; "Not that I can remember, she replied.
Not until Jim Crow's dead? "Uh huh."
Is he still alive somewhere? "I think he is."