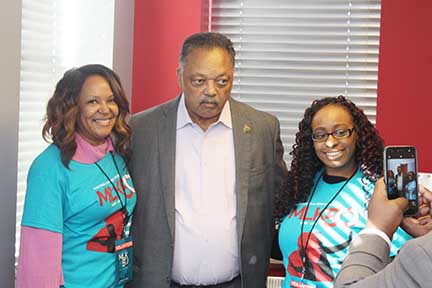 By Clint Confehr
MEMPHIS, TN — Answers were sought Wednesday at the National Civil Rights Rights Museum to the question posed by the Rev. Dr. Martin Luther King Jr.'s book title "Where Do We Go From Here?"
One of the destinations should be the election polls, according to the Rev. Jesse Jackson, one of America's iconic Civil Rights crusaders who spoke to thousands of people from the second floor balcony of the Lorraine Motel where King fell from a sniper's bullet 50 years ago.
"Our currency is our vote," Jackson said.
"Where Do We Go From Here: Chaos or Community?" was King's last book. First published in 1967. It was reissued in 2010 by Beacon Press.
The National Civil Rights Museum is in the building that was the Lorraine Motel. A new exhibit opened Wednesday, offering visitors the opportunity to write their answers to King's question, "Where do we go from here?" Business card-sized cards are available for people to select various causes, such as a living wage. The cards have a place for visitors to write their suggestions. A hole in the card is available for people to leave their answers hanging from a display in the museum.
National Newspaper Publishers Association President and CEO Ben Chavis was an assistant to Dr. King, and a staff member of the Southern Christian Leadership Conference when King was shot April 4, 1968.
"There were two sanitation strikes" that day, Chavis recalls; "One in Memphis and one in Charlotte, N.C." where Chavis was. "Dr. King was going to leave Memphis and go to Charlotte."
Chavis spoke for the black press, noting Coretta Scott King was also a supporter of the black press. They both wrote columns for the NNPA.
"The best way to remember Dr. Martin Luther King Jr. is to reassert what he stood for, what he lived for, what he died for, and what his living spirit and legacy demands today to challenge all forms of injustice," Chavis said, then quoting. Dr. King. 'An injustice anywhere is a threat to justice everywhere.'
"We should not just talk about what did not happen," Chavis said, noting mainstream media too often focuses on a half empty glass. "We should talk about what has happened in the last 50 years."
"Given the prevalence of technology, social media and the Internet, Dr. King's concept of the beloved community is much more relevant today because now people can be united through  technology," Chavis said.
An historic form of communication ended the day-long commemorative program. The tolling of a church bell, temporarily moved from Claiborne Temple, was sounded 39 times; one for each year of King's life. Bells around the world began to toll after Claiborne's bell rang, starting at 6:01 p.m., the time King was shot. In Nashville, Tennessee State University students heard their campus bell.
"He gave his life for the right to vote," TSU President Glenda Glover told WPLN FM Nashville.
Looking forward, Jackson called for change, noting "four million blacks in the south eligible to vote, but not registered … two and a half million who are registered to vote but didn't. It's time for a change…
"If we do our best, God has a way of doing the way," Jackson said. "There's nothing too hard for God. We fall down. We get up again; over and over again …
"God will. Say it," he told thousands in front of the the National Civil Rights Museum as his audience repeated, "God will," and Jackson continued, "heal our land." The crowd repeated the words.
"It's healing time. It's hope time. Healing. Hope. I am a man. I am a woman. I am God's child. I am somebody. Respect me. Protect me. Never surrender," Jackson said. "He did not die in vain… When we vote, we make Him happy.
"Power to the people. Thank God, Martin Luther King. Thank God, Winnie Mandela [who died April 2]. Thank God, Ralph Abernathy [who succeeded Dr. King as president of the Southern Christian Leadership Conference].
"Thank God for the marchers who paid the price," Jackson said, noting personal repercussions for demonstrators in the 1960s.
They include state Rep. Johnnie R. Turner (D-Memphis) who also spoke and later recalled that her participation in the Civil Rights movement prevented her from getting a job as a teacher until after lawyers from the National Association for the Advancement of Colored People threatened to sue the school board in Memphis.
"Keep hope alive," Jackson said as his audience followed suit.