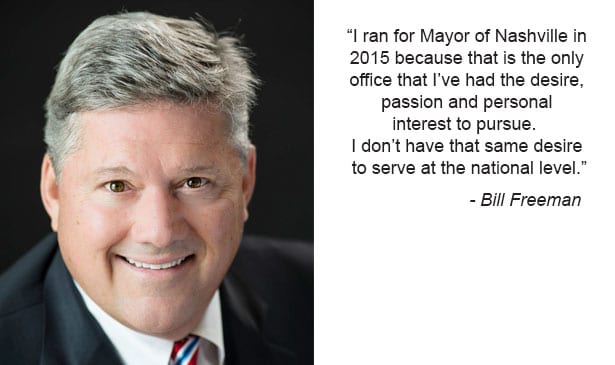 NASHVILLE, TN — Much has been discussed and more regarding the upcoming election for the Senate seat that Senator Corker will be vacating, following his recent announcement that he will not be seeking re-election to that position.
While many notable leaders of our communities and our state have expressed an interest in this position, I find that it is less important who wins this seat than the important need that the winning candidate holds a proper perspective on leadership.
It is vital that we all collectively see the importance of a balanced perspective and that the candidate who ultimately fills the position should have the mandate of putting the needs of our state and country above the need to stroke their partisan ideological platforms.
We have been blessed in Tennessee with many leaders who put the needs of all their constituents first – not just the ones who share the same political party.  And these leaders have come from both parties, that's undeniable.  Among Republicans, it is fair to say that both Senator Corker and Governor Haslam have exhibited this notable trait.  They have continually worked to put the needs of their constituents ahead of partisan politics, and this is something to be admired.  In decades past, it would be the late Governor McWherter who first comes to mind when you considered the Democrats who have led well and considered the input of all people as important – not simply the "yes men" that surround them.
However, the first and only Democrat who comes to mind from more recent years of state politics would be former Nashville Mayor and Governor Phil Bredesen.  Among the Democratic leaders who have shepherded a community and led our state, Mr. Bredesen is in a class by himself.
While Bredesen grew to become a substantial figure in our state politics and became an industry expert on federal and state-level insurance programs, he first began as mayor of Nashville with no prior political experience.  The same can be said for James Mackler, the Democratic candidate who has pledged to provide the best he can provide if elected to this vital seat.  And his best will be considerable.  A veteran of the Iraq War, a former member of the 101st Airborne and local attorney, he has pledged, in his own words, "to restore respect, honesty, and most importantly, integrity in Washington."  As every military serviceman and woman knows, cooperation and joint effort produces the greatest result.  Polarization has never succeeded in the military, and it cannot succeed in the successful workings of our federal government, either.
I am complimented to be listed as a possible candidate to run for the U.S. Senate.  It would be an honor to serve in that capacity.  I ran for Mayor of Nashville in 2015 because that is the only office that I've had the desire, passion and personal interest to pursue.  I don't have that same desire to serve at the national level.
To my fellow Democrats, let me say that this is an opportunity we should not squander. There has never been a more fertile time in the political landscape to influence the hearts and minds of those who may be disillusioned by the far extreme right that is holding sway over our national politics today.