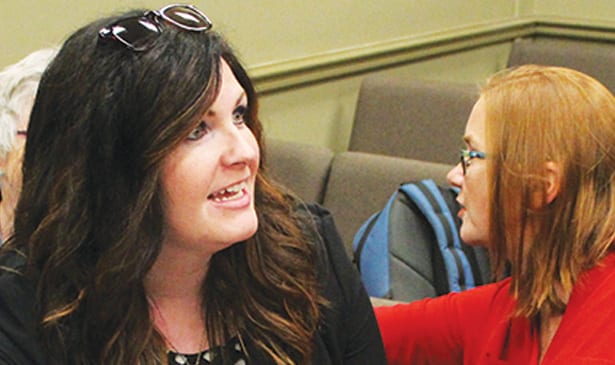 By Clint Confehr
SHELBYVILLE, TN — At least one Bedford County resident has it all figured out when it comes to White Lives Matter demonstrations planned Oct. 28.
"This is all due to Donald Trump," Courtney Parsons of Shelbyville said after his city council unanimously adopted a carefully-worded resolution for peace in the valley.
With a nod to Halloween, "Boo to Hate" signs are anticipated among opponents of white supremacist demonstrators. The deadly Aug. 12 demonstration in Charlottesville, Va. apparently motivated a city declaration of support for police.
The resolution also supports Constitutionally-protected rights of peaceable assembly and freedom of speech. "Our community is caught between conflicting ideological ideas," the resolution states, noting people with opposite views plan to demonstrate here.

From 10 a.m.-1 p.m. Oct. 28, the Nationalist Front hosts sidewalk-demonstrations with the League of the South, Traditionalist Workers Party, National Socialist Movement, Vanguard America and Anti-Communist Action. In response are the Bedford County Democratic Party, Statewide Organizing for Community eMpowerment, Nashville Street Medic Collective and the Neon Guard.
"We … asked them to denounce the ideology of white supremacists … [and say] it is not reflective of our city," Bedford County Democratic Party Chair Sharon Edwards said. "I'm … disappointed."
Without taking sides, the resolution says, "It is the intent of the Mayor and Council to refuse to allow … our community to be defined as one controlled by fear, but rather be a community that embraces a courageous spirit and resolves to live and move forward together in hope."
Parsons said, "The … stuff that's coming out of [Trump's] mouth has created a climate that's hostile to minorities and immigrants and people of color. Now these people think they can come out of the woodwork … after 20-30 years of hiding and bring their racism back …"
Trump won 75 percent (11,486) of 15,355 Bedford votes Nov. 8. Hillary Clinton got 22 percent (3,395). Others got 474 votes, combined.
Occidentaldissent.com says White Lives Matter demonstrators want to "draw national attention to the Emanuel Samson church shooting" in Antioch at Burnette Chapel Church of Christ killing Melanie Crow and wounding seven Sept. 24. Samson, 25, of Murfreesboro came from Sudan. Burnette Chapel is well-integrated. Samson did "a reverse Dylan Roof," only killing whites, occidentaldissent.com says.
Raised in Shelbyville, U.S. Rep. Jim Cooper, D-Nashville, was Bedford's congressman during 1983-1995. As for pending demonstrations, he said, "Racism and domestic terrorism have no place in America. My hope is that Tennesseans unite against hate. Reasonable people should speak out and let these extremists know they are not welcome …"
Congressman Scott DesJarlais, R-South Pittsburg, represents Bedford. His office didn't provide a quote during a 36-hour window of opportunity.
At Shelbyville's meeting was Mariah Phillips of Murfreesboro, a candidate for the Democratic nomination to run for the seat held by DesJarlais.
"I understand that, constitutionally, (white supremacist) have the right to be here," Phillips said. "As a U.S. government teacher, I understand the rights (city officials) have to uphold, but that wouldn't have stopped them from condemning the message that's being shared which is one of hate and separation. This could be a unifying moment."
Councilman Henry Feldhaus signed the Democrats' petition offering a stronger resolution. "I support this effort 100 percent," Feldhaus said. "We do not need any hate groups to identify their cause with Shelbyville or any other town."
White supremacists plan to go to Murfreesboro after demonstrating here.
Meanwhile, the Bedford County Ministerial Association denounced the "anti-Gospel of Alt-Right white supremacy" declaring "Our justification before God is based on faith in Jesus Christ alone and not in our ethnicity."