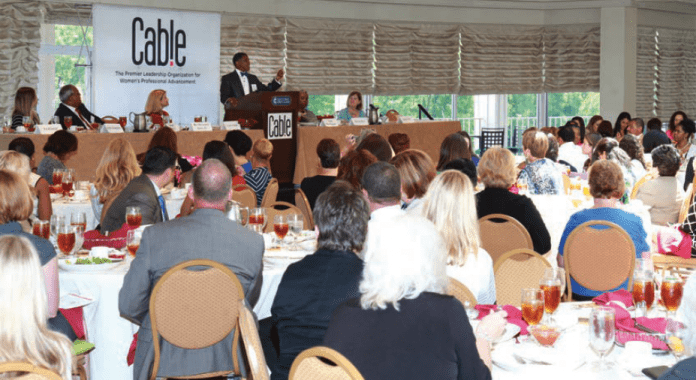 NASHVILLE, Tenn — "Take that leap of faith," encouraged Rev. Howard E. Jones, Jr. of Nashville's Fairfield Missionary Baptist Church to Nashville Cable's luncheon, a women's leadership organization. "If you didn't, you wouldn't be where you are." His church took the leap by opening the Kingdom Café on 2610 Jefferson St. A place "with a meal and a mission" to serve good food, stimulate economic opportunity, act as a think tank, exchange ideas, educate and welcome meaningful conversation.
Their intention was recently rewarded with a standing-room-only, town hall meeting of nearly 200 on the topic of national police shootings. Jones said he heard a lot of pain. When they opened, "We wanted to clean up the neighborhood," he said, so they invited the police to come and help pick up litter, which they actually did. "We want to teach pride and cultural awareness." Jones says they also teach 'street law' to area youth.
His congregation created affordable housing with church land, and also invited, and then honored Metro Police Officer Matthew Cammarn, who was attacked by a crowd while making an arrest in the Cayce Homes. "He made the choice not to shoot, not to use deadly force." said Jones, "We cry when there's something wrong. We need to cry when there's something right!"
The entrepreneurial pastor and current Metro Assistant Principal believes in education and encouragement with "Legacy, Living, Loving and Leadership." He says understanding the legacy of North Nashville; TSU, Meharry and Fisk higher education institutions, as well as a historic & cultural area and an economic mecca is important. "North Nashville is a unique place for the world to see and be proud, not just, 'Don't go to that side of Jefferson Street."
Jones remembers following the TSU Marching Band thundering down the street as a child and noted Ed Kindall's Book, A Walk Down Historic Jefferson Street, saying, "If you were into music, you came to Jefferson Street to hear Jimi Hendrix, James Brown and the Big Bands. This is Music City!" adding that North Nashville and Nashville belong to each other.
Citing a Chamber of Commerce report that 2500 new people move to Nashville every month, he said, "North Nashville must be a part of that growth – it's up to us."
Jones said it's important to starve your doubts and feed your faith. "We can't operate out of fear…look your son or daughter in the eye, and say, 'I believe in you'…Give them authentic love. Not pity… We've all got to leave this planet better than we found it, and you can't do that being afraid." At Kingdom Café Jones says he learned to get under-privileged people in conversations, "you've got to go to them." And to help people with felonies, "Not to throw away people. It's critical to retool (them) because they're human."
After Jones' speech, the audience wanted the Kingdom Café address and he was approached and appreciated by many. Exchanging business cards was definitely encouraged at the Cable luncheon and the organization's Phyllis Qualls, said, "If we all do a little, we can change a lot."
Established in 1978, Cable is Nashville's largest women's networking and career advancement organization for more information on membership and events please vis- it nashvillecable.org," said Susan Huggins, president & CEO of Cable.