DON'T MISS
NASHVILLE – Let Freedom Sing! Music City July 4th presented by Dr Pepper Cherry includes a new main stage at Fifth and Broadway with...
LATEST NEWS
FIGHTING WITH MY FAMILY, hitting theaters nationwide on Friday, February 22. It's a heartwarming comedy based on the incredible true story of WWE Superstar Paige™...
By Reginald Stuart WASHINGTON, DC — Just as the late Detroit automobile executive George Russell did decades earlier when he embraced Meharry Medical College and...
By Ashley Benkarski NASHVILLE, TN — Heart Month is here, and TriStar Centennial's Dr. Bryan Fisher is spreading the love by educating patients, peers and...
POPULAR ARTICLES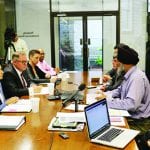 By Peter White NASHVILLE, TN — Metro Purchasing Agent Jeff Gossage denied a protest regarding the development of Fort Negley awarded to a friend and...
MICHAEL ARCENEAUX This week, The New York Times was heavily criticized for publishing an articleabout the Austin bomber, Mark Anthony Conditt, using language that described him as...
MEMPHIS, TN — Girl Scouts of the USA (GSUSA) named Trinity Walker a 2018 National Gold Award Girl Scout, the organization's most prestigious honor.  GSUSA...
LATEST REVIEWS
By Dakin Andone, Kaylee Hartung and Darran Simon At least 26 people were killed in Sunday's church shooting in Sutherland Springs, Texas, Gov. Greg Abbott said at a...