POPULAR NEWS
NASHVILLE – The State Fire Marshal's Office (SFMO) reminds Tennesseans to take the time to check their smoke alarms and carbon monoxide detectors when...
NASHVILLE, TN  (TSU News Service) — TSU alum and Waffle House hero James Shaw Jr. launched his new charity during an anti-violence rally at...
WORD CUP 2016
By Julia Craven WASHINGTON, DC — This was some black stuff on stage. This was Stacey...
A police officer in Grand Rapids, Michigan should be reprimanded – and fired – for...
WRC Rally Cup
Sean Allen, the Debate and Speech coach at Tennessee State University, is this week's guest...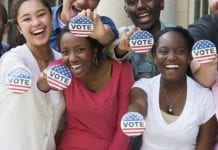 I watched the documentary on Hillary Clinton the other night and was pleasantly surprised at...
Do your gums bleed when you brush your teeth? Bleeding gums are one of the...
CYCLING TOUR
By Janice Malone NASHVILLE, TN — Bring It! now in its third season on Lifetime, shines a spotlight on the elite world of hip-hop majorette...
Last week I asked you to join the movement across the country to boycott Black Friday.  I discussed options available to us to support...
NORRIS, TN — Fall Heritage Days at the Museum of Appalachia will transport guests back in time through the sights, sounds, smells and tastes...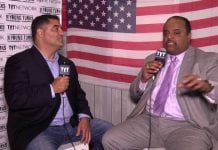 By Tatyana Hopkins, Howard University News Service CLEVELAND, Ohio - Black participation was noticeably low at the Republican National Convention as Republicans gathered to nominate Donald...
By Cathy Bender I was elated when my "Bonus Mother", Rosetta Miller Perry asked me to share some words about my mother Odelia Bender as...
TENNIS
NASHVILLE, TN — A waste management service's plan to move from Baptist World Center Drive to Whites Creek Pike is the reason for one...
By Ron Wynn The interim tag was officially removed last week as the Memphis Grizzlies reached agreement with J.B.Bickerstaff on a three -year deal to...
LATEST ARTICLES
By Clint Confehr TIVERTON, RI — Insulin resistance is a growing problem physicians are facing and it's of special interest to African Americans because they're more likely to develop diabetes. Insulin resistance syndrome is a condition...
FIGHTING WITH MY FAMILY, hitting theaters nationwide on Friday, February 22. It's a heartwarming comedy based on the incredible true story of WWE Superstar Paige™ and her once-in-a-lifetime opportunity to try out for WWE, which...
By Reginald Stuart WASHINGTON, DC — Just as the late Detroit automobile executive George Russell did decades earlier when he embraced Meharry Medical College and helped catapult it into the future with a new  look...
By Ashley Benkarski NASHVILLE, TN — Heart Month is here, and TriStar Centennial's Dr. Bryan Fisher is spreading the love by educating patients, peers and politicians on the connection between race or ethnicity, vascular disease...
NEW YORK, NY —The Women Presidents' Organization (WPO), a peer advisory group for million dollar plus women-led companies, is proud to announce Sharon Reynolds, president and CEO, DevMar Products, LLC, as the newest At-Large...
By Niara Savage Special to the Tribune from The Voice NASHVILLE, TN — Over two years ago, in a unanimous decision by the Metro school board, Dr. Shawn Joseph became the first African-American to lead Nashville's 86,000 student...
By Wiley Henry MEMPHIS, TN — Home is where Eugene Phillips' heart is and where he feels most comfortable. His heart is also with the children at St. Jude Children's Research Hospital who grapple with...
NASHVILLE, TN — The Annual Project Save-A-Student Leadership and Training Conference is a live three day experience hosted by the Education Equal Opportunity Group (EEOG) designed to help emerging students leaders from public high...
By Ashley Benkarski MURFREESBORO, TN — Taiisha Bradley knows how to connect the dots. She saw a need for local minority businesses to connect with each other and promote their brands, so she created the...
By Shawn Joseph, Ed.D. Director of Metro Nashville Public Schools When I first arrived in Nashville just a little over two years ago, I met dozens of people. Of the many wonderful people I have had the...
COLUMBIA, TN — Sisters of Standard will host its 12th Annual Women's Weekend at New Life Ministries in Columbia, Tennessee. The annual event attracts guests from guests from Kentucky, Alabama, Georgia, Ohio, Illinois, and...