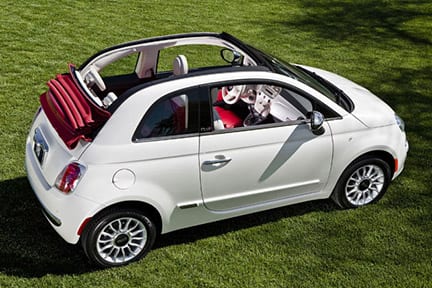 The 2017 FIAT® 500 C is the real "Italian Job," so to speak. The stylish exterior design immediately grabs attention. The one-touch power sunroof on the FIAT® 500 can tilt from the rear for ventilation, or slide rearward to provide a full opening, this is a feature that brings out the cool in almost every driver. But both drivers and passengers are pleasantly surprised to see the Fiat's spacious interior.  It has an interior designed to accommodate your lifestyle, with a versatile split-folding rear seat, that allows for plenty of room for your stuff, your friend's stuff and even your dog's stuff. Our reviewer says: "I especially love the car's easiness to whisk in and out of tight parking spots. This car is compact but comfortable plus, has excellent gas mileage!"
This subcompact car allows drivers to maintain a comfortable cabin temperature year – round with Automatic Temperature Control (ATC). Set the temperature once and ATC will warm or cool the interior of your FIAT® 500 continuously, no matter what the temperature is outside. The leather-wrapped steering wheel on the FIAT® 500 features elegant stitching that's easy to grip and soft to the touch. Integrated audio controls allow you to keep your hands on the wheel and eyes on the road. The 7-inch customizable Driver Information Digital Cluster Display replaces traditional gauges. It delivers real-time information using full-color graphics, including displays for engine performance, audio selection, vehicle status, Navigation (if equipped) and more.
The FIAT® 500 isn't just about fun and coolness. Driver/passenger safety is a top priority. Drive confidently with the knowledge that you are protected by seven airbags. A steel safety frame reinforces the passenger compartment with high-strength materials in order to help absorb energy and redirect it away from passengers in the event of a collision, helping to reduce the risk of injury. The vehicle's standard four-wheel disc antilock brake system helps give you both. It monitors the speed of each wheel, allowing each wheel to brake independently for superior control if needed.
THE NUMBERS:  MSRP—Starting at $14,990 – MPG:  27 City/33 (Hwy)