By Janice Malone
NASHVILLE, TN — The Winfrey family is one of Nashville's most beloved, well known and established families. Each family member has achieved success in their own respective professions in media, commercial business, ministry, and entrepreneurship.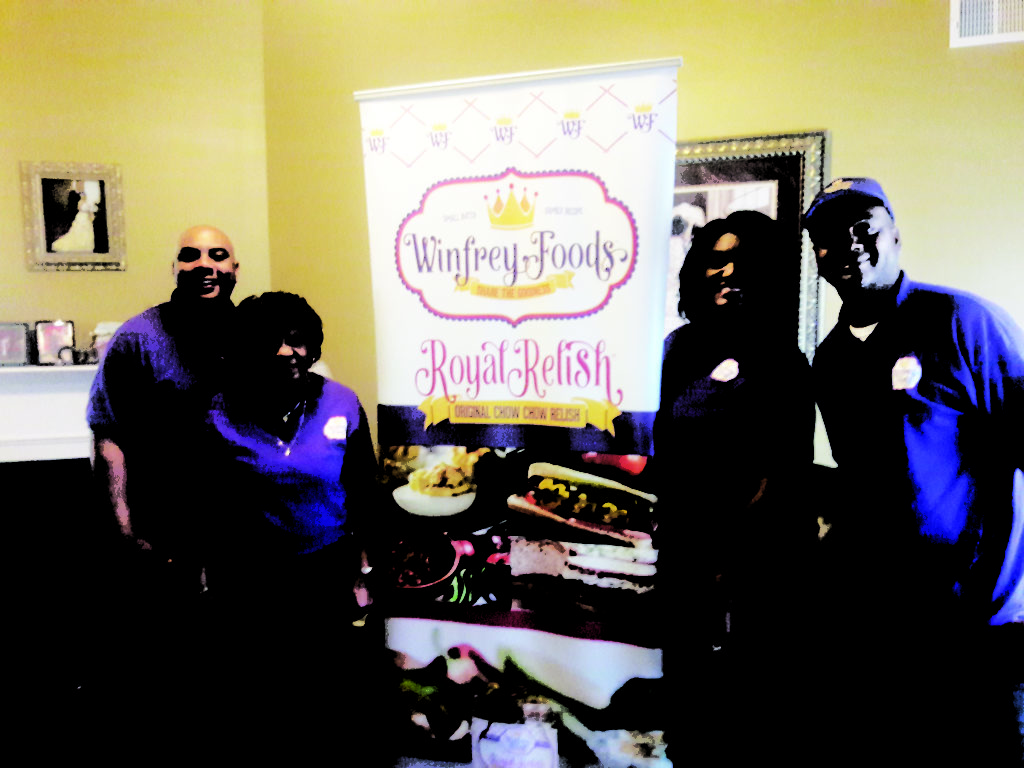 Today, the five Winfrey siblings, Karla, Burnice Jr., Cardale, Victor (lives in Atlanta) and Carlton (lives in Detroit), along with their beautiful mom Ms. Judy, have all come together to add their talents to launch the family's very own line of food products under the name WINFREY FOODS www.winfreyfoods.com @Winfreyfoods.com
Their first signature product is ROYAL RELISH ORIGINAL CHOW CHOW.  It's a tasty new chow chow relish that adds a 'sock-it-to-me' zingy punch to practically any dish that it's paired with, whether it's meats, veggies, dips or eaten straight from the jar with chips.
In the Beginning

"It's taken a lot of prayers, planning, and preparation," says Winfrey family matriarch Ms. Judy about their newfound one-year-old food business. It all started as far back as the 1930's. "For years family and friends have always loved our family's cooking, especially the chow chow relish," recalls TV broadcaster/film producer Karla Winfrey.
Burnice Winfrey Jr. adds, "So many people would often come to my mom's home, requesting the chow chow just as much as they would her desserts.  We figured that if people are requesting this relish as much as the desserts, then we must be on to something very good."
The family began tweaking the original relish recipe, by conducting several tastings among family, friends and potential customers, until the final product was perfected.
"We're not food manufacturers but we know the business world of finance, marketing, and communications. And we know our product, which is so tasty," says Cardale Winfrey.
Today
In a year's time, Winfrey Foods has teamed up with a co-packer company in the Dickson, TN area that packages the product. The Royal Relish is currently available in 3 flavors: Original, Spicy and Nashville Hot. It's made with all-natural ingredients, low in sugar, with no preservatives.
The chow chow sells in all Publix supermarkets throughout the entire state of Tennessee. The original flavor is found only in Publix. But Mitchell's Deli in (East Nashville) sells all flavors. The new Royal Relish Nashville Hot flavor sells in the new Woolworth on Fifth in downtown Nashville.
A "Star is Born"
For decades chow chow's been a traditional southern condiment among cooks all over the south–especially soul foods. But the new Royal Relish is becoming a favorite with diverse customers. "We're giving chow chow a brand new look to a new generation," says Burnice Jr. "And our relish is becoming popular among people of all ethnicities. We have customers who are Jewish, Italian, Asian and so many others who love eating it with some of their culture's favorites dishes," adds Cardale.
In the past, eating chow chow with greens was the real thing. But today, the Royal Relish has become a multi-food use product that's deliciously being eaten with omelets, chicken salad, deviled eggs, sandwiches, venison, pork chops and even sushi.
It seems that the Royal Relish has also become popular among celebrity chefs too. Atlanta-based celebrity Chef Cedric "Sizzle" Bradley, who's the current personal chef to superstar recording artist Ludacris, and formerly a chef for entertainer Usher, loves including the chow chow in meals for his high-profile celebrity clientele.
The Royal Relish Spicy flavor has now become popular among the chefs who prepare food in the Tennessee Titans' luxury suites. It's a favorite treat added to the prime rib sandwiches. In fact, several jars of the relish were delivered just last week to the Titans' sous chefs for a big southern-themed dinner event.
The Immediate Future
The Winfrey family has taken their chow chow relish to several food festivals, food trade shows, farmers markets and culinary conventions, where it's become a 'must taste/must sample' among attendees. The Royal Relish is now featured with the prestigious Pick Tennessee agricultural organization that focuses on Tennessee grown and produced foods and food products. The Winfreys revealed they're in talks with Fortune 500 companies in the restaurant business and are also talking to major food provider companies about their product. Expect some big announcements coming this summer and they're also revealing even more:  "Don't be surprised if later this year, you might see some of our baked goods on the local market on a small scale in select places around town. But for now, we're going to stay in that jar and continue to stay 'loyal to the Royal' — as in the Royal Relish!" adds Karla with a smile and a wink.