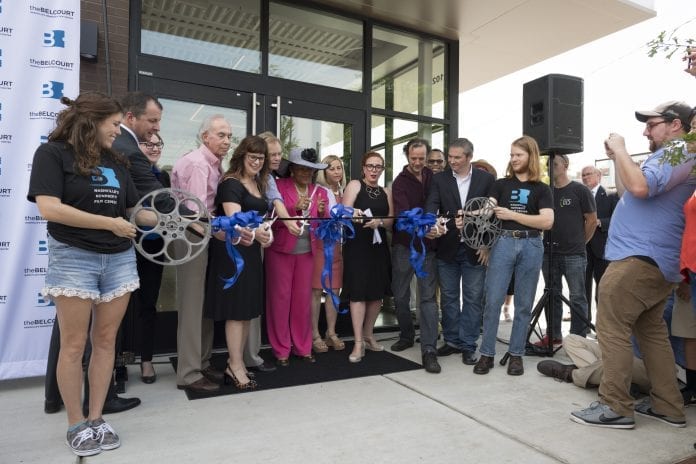 At last the wait is finally over. The re-opening of the brand new renovated Belcourt Theater took place this past weekend.  The Belcourt closed its doors to undertake the renovation after the last screening on Dec. 24, 2015, the theatre's first major work in 50 years. In the presence of political dignitaries, scores of dedicated movie fans, donors, media and staff, the 90-year-old historical theater re-opened to show off its brand new state of the art features. The Belcourt renovation project balanced the need to upgrade and strengthen the aging structure and its core systems and accessibility features, as well as the importance of protecting key features and elements of the original 1925 structure, including the 1925 Hall.   Some of the new renovation features include:
expanded lobby space, spanning the entire front of the building along Belcourt Avenue, and including an alcove for gathering pre- and post-films

a re-positioned box office, larger and on-grade for easier access for all patrons

bigger and fully-accessible restrooms

light lock doors for both the 1925 Hall and 1966 Hall to enhance the viewing experience

new 2nd floor screening room (40-person capacity)

new 2nd floor education and engagement space

elevator for 2nd floor access

new HVAC, plumbing and other core systems
With all of these new high tech features, the Belcourt still has not lost its classic feel and charm. "For all fans, old and new, the renovated Belcourt will be the best place to see movies in Middle Tennessee. And for the many loyal Belcourt fans who've been anticipating our reopening, we think they're going to be delighted by all that's new and all that's still very familiar," said Belcourt executive director Stephanie Silverman. Skylar "Skater" Benjamin, a long time Belcourt Theater fan readily agrees, "I've been waiting for this weekend forever! I love coming to the Belcourt–even if the movie isn't that good, which is rare.  It's just something about the feel and the presence of being inside of the building that makes it special. Even with the new renovations, the building still has that comfy feel to it for me. It's beautiful," adds Ms. Benjamin.
The Belcourt Theatre has long been a destination in Nashville's trendy Hillsboro Village, and a sustained period of growth and success has made the renovation project both possible and necessary. With audiences averaging approximately 160,000 a year, the theatre showed a record 324 films with 2,866 screenings in 2015. As Nashville has thrived, the theatre has experienced ongoing audience growth, expanding community demand for its Mobile Movie Theatre and education programs, and increasing support from individuals and organizations throughout Middle Tennessee. Visit The Belcourt: www.belcourt.org