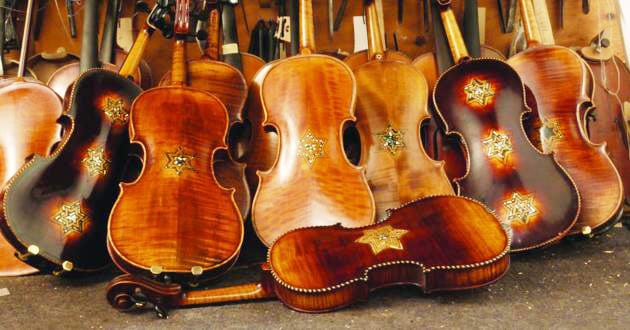 NASHVILLE, TN — Representatives from the Nashville Symphony, Jewish Federation of Middle Tennessee, Nashville Public Library, Nashville Ballet, Frist Center for the Visual Arts, Vanderbilt University and other local organizations will be on hand to announce plans to bring the Violins of Hope to Nashville in 2018, during a press conference on Tuesday, September 12 at 1 p.m. at Schermerhorn Symphony Center.
Speakers will be:
• Alan Valentine, President & CEO, Nashville Symphony
• Steve Brosvik, Chief Operating Officer, Nashville Symphony
• Mark S. Freedman, Executive Director, Jewish Federation & Jewish Foundation of Nashville and Middle Tennessee
• Paul Vasterling, Artistic Director & CEO, Nashville Ballet
• Liz Coleman, Reference Librarian, Nashville Public Library
·         Pamela Schneller, Associate Dean, Vanderbilt University
The Violins of Hope are a collection of restored and refurbished instruments played by Jewish musicians interned in concentration camps during the Holocaust. The instruments have been the subject of a best-selling book by James A. Grymes and a critically acclaimed documentary, Violins of Hope: Strings of the Holocaust.
The Symphony has partnered with more than two dozen local groups and organizations to bring these rare instruments from Israel to Nashville in early 2018 as part of a community-wide initiative over two-plus months that will include an exhibition at the Nashville Public Library, performances by the Nashville Ballet and other local arts groups, lectures and more.
In addition, Nashville Symphony musicians will perform on the Violins of Hope on March 22-24, 2018, during an Aegis Sciences Classical Series program that will include selections from Schindler's List and Barber's Adagio for Strings.
A full timeline of all activities and events surrounding Violins of Hope in Nashville will be announced during the September 12 press conference.