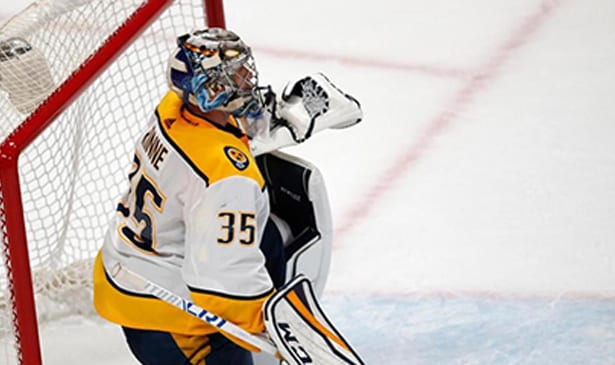 By Ron Wynn
The Nashville Predators avoided getting behind early, and then withstood a furious third period rally to edge the Colorado Avalanche 3-2 Wednesday night in Denver. That win put them ahead in the best of seven series 3-1. It also marked a turnaround in form from the earlier games in which the Predators had to shake off slow starts.
This time the Predators had a first period shots advantage of 18-8 while taking the early 1-0 lead. They expanded it to 3-0 with a pair of second period goals. But Colorado stormed back in the third period to narrow the lead to 3-2 and almost tied things late when former Predator Colin Wilson's shot hit the post.
Filip Forsberg had another highlight reel goal in the first period, and was voted the game's number one star. Colton Sissons and Craig Smith had the other goals, with both Sissons and Smith scoring immediately after the Predators had killed off penalties. Smith in particular came straight out of the penalty box, scooped up a pass and scored what proved the game winning goal.
Pekka Rinne, named earlier in the day as one of the finalists for the Vezina Trophy as top goaltender in the league, bounced back with 31 saves. He kept Colorado off the board until Gabriel Landeskog finally scored when the Avalanche were on a 5-on-3 power play in the third. The Avalanche got their other goal from Alexander Kerfoot with 8:59 remaining.
Avalanche goalie Justin Hammond suffered a lower body injury and was pulled in the third period after giving up three goals on 26 shots. His replacement Justin Hammond had eight saves.
The Predators also got two assists from Mattias Ekholm, and welcomed back Calle Jarnkrok to the lineup. Game number five is scheduled for Friday night at Bridgestone Arena.