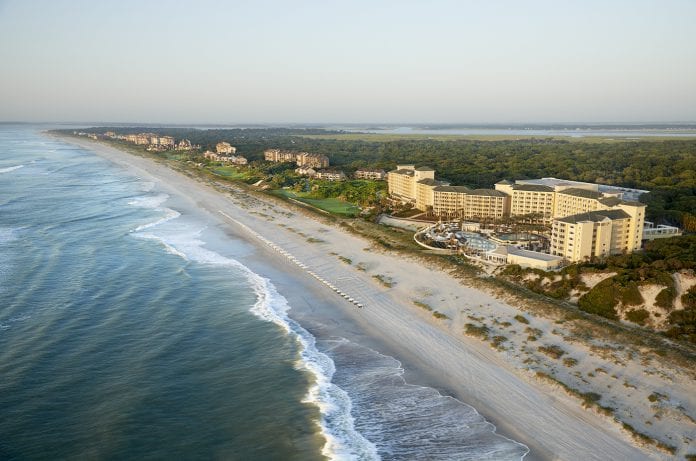 Omni Amelia Island Plantation
is one of the most remarkable
travel destinations
in the South. From the diverse
choices of leisure to grand hospitality,
guests will experience
a royal getaway.
Meander down winding
walking paths shaded by Spanish
moss, tropical palms, and
oak trees. Stroll along the vast
beaches lined with multicolored
seashells. Or for more
structured leisure, take a kayaking
tour along natural salt
marshlands of the Intracoastal
Waterway. Whatever the preference,
nature's finest tranquility
awaits on Omni property.
Omni Amelia Island Plantation
just completed its $85
million Re-Imagination. The
16-month project marks the
newest chapter in the resort's
40-year heritage. Opened in
1972 as Florida's first green resort,
the iconic property blends
seamlessly with nature and
welcomes vacationers to experience
1,350 acres of extraordinary
experiences, from worldrenowned
championship golf
and tennis and seven miles of
hiking and biking trails to nine
diverse culinary options and
miles of pristine Atlantic coastline.
Completed March 5, 2013,
the re-imagined resort presents
an entirely new arrival
sequence, allowing guests to
interact with the water immediately
upon setting foot in the
lobby. With an elevated porte
cochere and floor-to-ceiling
windows overlooking fire and
water features, and, of course,
the Atlantic Ocean, the inviting
space welcomes guests to
an unparalleled beach vacation.
The lobby is located in the
new Oceanside wing, which
features 155 new rooms, while
the rejuvenated Sunrise wing
features 249 rooms, totaling
404 oceanfront escapes. Of the
27 suites, most notable are the
Infiniti Suites, which occupy
the farthest edge of Oceanside
and boast wrap-around porches,
allowing for miles of endless
views of the Atlantic coastline.
Directly off the hotel lobby,
the new outdoor area offers the
largest pool deck in Northeast
Florida with lounge seating
for sun-seekers, three fire features,
additional food and beverage
services and expanded
changing facilities. The tiered
poolscape includes the Serenity
Pool, an adult, infinityedge
pool; the family-friendly
Splash Pool; Splash Park, a
water playground perfect for
toddlers and small children;
and two hot tubs – all featuring
uninterrupted, spectacular
Atlantic Ocean views.
In addition, the greens
next to the kid-friendly splash
area offers pop-up movies, spa
breaks, golf and tennis clinics
and culinary samplings, pleasing
guests of all ages. For pool
and beach goers who aren't
diligent about reapplying sunscreen,
the resort offers cutting
edge UV bands that detect
when SPF levels are low.
Guests indulge in delectable
dining experiences, as the resort
plays home to nine superb
restaurants and lounges.
With inventive Southernstyle
flare, farm-to-table dining
and fresh seafood, the culinary
team, led by Executive
Chef Daven Wardynski, has
re-imagined the dining experience
and offers a menu to
please every palate. Hosting
all poolside guests, the new
Oceanside offers 144 oceanfront
seats and serves "Floribbean"
flair such as fish tacos
and signature cocktails.
The recommended dinner
is the Flounder, served whole
and can be grilled or fried. The
delicacy is served with plantains,
beachcomber slaw and
an Oceanside sauce.
Natural Slice uses salt water
from the Atlantic to make its
salty, delicious pizza crust. Seaglass,
located in the lobby area,
is the perfect gathering space
for pre-dinner cocktails and
tapas, and the new menu at the
much- beloved Verandah provides
guests with always-fresh
seafood and the opportunity to
track fishing reports and sustainable
seafood choices available
across the country.
Additional dining venues
include Marsh View Bar &
Grill, Marché Burette, Falcon's
Nest and Sunrise Café.
Marche Burette Market and
Deli offers local fare and freshly
prepared salads, entrees either
market or restaurant style. The
eclectic store is filled with tantalizing
chutneys, cheese, wine
and more. Chef Robert Reinhardt
prepares island cuisine at
its finest. The chef built a customized
outdoor grill where
he prepares the Saturday night
shrimp boil. The mouth watering
dish consists of shrimp,
corn, potatoes, pearl onion,
kielbasa sausage all boiled outdoors
and then served with
roasted zucchini, squash and
peppers. The boil is perfectly
seasoned with a signature spice
consisting of paprika, cayanne
pepper and dry mustard.
A must try at The Marsh
View Bar and Grill is the Blue
Crab quesadilla, stuffed with
crab, pepper jack which includes
roasted corn, black
beans, charred tomato salsa
and guacamole.
Omni Amelia Island Plantation
now features more than
80,000 square feet of versatile
function space in the onsite
Conference Center and across
the 1,350-acre property to accommodate
meetings, banquets,
weddings, social events
and conferences of up to 1,800
attendees. The new space includes
the 16,800-square-foot
Magnolia Ballroom, as well
as the 11,165-square-foot
Amelia Ballroom and the
5,465-square-foot Cumberland
Ballroom. Pre-function and
exhibit space and 37 breakout
rooms complete the new
Conference Center, while the
Magnolia Garden, located just
outside, features 11,000 square
feet of lawn edged by majestic
magnolia trees and herbs used
daily by the resort's chefs.
Perfect for families, Omni
Amelia Island Plantation is a
gated luxury resort, complete
with on-site youth and family
activities, including Camp
Amelia, Gamers teen lounge
and Heron Cove's Adventure
Golf. The resort's natural
wonders are on display at the
Nature Center, which offers
guided hiking, biking or kayak
tours at various on-site lakes,
ponds, marshes and beaches.
An alluring hideaway
tucked beneath the grand Florida
oaks, guests are instantly
transformed into a state of relaxation
upon entering the full
service luxury spa, housing 16
treatment rooms that include 2
new couples treatment rooms
as well as 14 single rooms and a
rejuvenated relaxation area.
The luxury wellness spa facility
features relaxing couple
massages, facials, steam showers,
as well as haircuts, styling,
make up application and yoga
classes.
Among all the outstanding
amenities, the roads and walkways
have also been redesigned
for improved traffic flow and
enhanced pedestrian connectivity.
Parking is also improved
with an all-new, three-story
structure providing 540 additional
spaces and 70 new valet
spots.
For more information on
the re-imagined Omni Amelia
Island Plantation, call
1-800-The-Omni or visit www.omniameliaislandplantation.co