By Peter White
NASHVILLE, TN — Governor-elect Bill Lee is a very successful businessman who treats his wife and workers well, believes in God, family, and the American dream. He raises cows on the family farm and runs the business started by his grandfather in 1944. 
Lee spoke a lot about his faith during the campaign as he travelled to every county in a RV with his wife, Maria. He goes to Grace Chapel, a nondenominational church in Leiper's Fork, which is part of a charismatic Christian sect, the Calvary Chapel Association.
Lee is a political conservative and a Christian fundamentalist. He doesn't think girls should use boys bathrooms and vice versa. He doesn't like gay marriage. He has done missionary work in foreign countries. He reads the Bible and thinks about the end times. Lee won the white evangelical vote in Tennessee 3 to 1 against Democrat Karl Dean. He didn't win the black vote.
"We need more involvement in the public discourse, not less, and so, Karl, thank you for your commitment to our state," Lee said in his victory speech Nov 6 at Liberty Hall in Franklin. 
 "So, as the ads come off of our televisions, and the yard signs come down, I give you my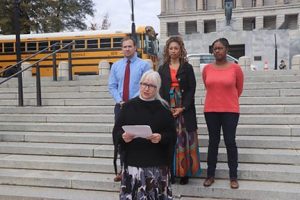 word: I will be a governor for all Tennesseans," Lee said.  Speaking to people who voted for "the other guy" Lee said all Tennesseans have more in common than what divides them.  
"I want you to know from the bottom of my heart, I care about you, I care about your family, and I'm going to do my very best to make you proud that I'm your governor," he said. 
Apparently, Lee did not mean the 2.7 million Tennesseans with pre-existing medical conditions. He is not going to tell Attorney General Herbert Slatery to withdraw from a class action lawsuit in a federal district court in Texas. 
Twenty attorneys general are trying to have pre-existing conditions nullified and the entire Affordable Care Act (ACA) declared unconstitutional (see Cease and Desist Letters, July 29, 2018).  It may take a while to get there, but with Brett Kavanaugh on the high court, the ACA is now on the Endangered Species list. 
A spokesperson from Lee's transition team told the Tribune that Lee is not in favor of expanding Medicaid at this time. He wants to stem the spiraling costs of healthcare first. 
Members of the Southern Christian Coalition gathered on steps in front of the Capitol Nov. 8. They want Governor-elect Lee to tell the Attorney General to withdraw from the lawsuit and expand the ACA. 
"To invalidate the ACA is an immoral and unfaithful act. It will rob people from their ability to seek and receive healthcare," said Minister Morgan Gordy. Minister Kelli X of the Village Church in Madison begged the Governor-elect to heed the Bible and its prescription to do "for the least of these" as Jesus commanded.
"I urge him to do all that is necessary to help the people of Tennessee. I know that he can. I know that he is capable of it.  And so I am putting my faith in God hoping that he will change and do what is necessary to bless this state and bless its people," Kelli X said.
Lee has no political experience and Senator Lamar Alexander has plenty. Alexander is a Republican but has tried to protect the medically needy and keep health insurance affordable for years without success. As Chairman of the Senate Health Committee he promoted new Association Health Plans last summer. The Congressional Budget Office predicts they will be cheaper but they do not necessarily afford the same protections as the ACA. 
Medicare For All advocates say those plans are just a throwback to the days when health insurance companies denied coverage to those who really needed it or priced it beyond their means to pay. (see Alexander Plans to Fix Obamacare in Tennessee July 6, 2018) 
Under the ACA, health insurance premiums have risen and will probably keep on rising if the sickest people stay in the insurance risk pools. How Lee plans to fix that in Tennessee is unclear. But it looks like his first move is to deny people who need healthcare the most and can afford it the least. That is not a real solution. It's more like a business decision.
Lee appears to be a compassionate conservative. He is a straightforward guy and you can't argue with his priorities: healthcare, education reform, criminal justice reform, good jobs, ending poverty in the inner city and in rural Tennessee communities. He wants to tackle the opioid crisis and crime, too. 
He won't be able to do any of those without getting support in both chambers of the state legislature. Lee hopes to solve problems by consensus and compromise. But Republicans have expressed little desire to dialogue with the opposition for years. They have been pushing bills that are as far away from compassionate conservatism as heaven is from hell. 
Lee plans to create public-private partnerships to tackle Tennessee's knottiest problems. Housing and Urban Development Secretary Ben Carson visited a rehab clinic in Nashville last month and he has the same philosophy. (see HUD Secretary Carson Comes to Nashville, Nov 1, 2018) 
As several drug addiction experts have noted, however, the $3.3 billion Congress allocated to deal with the Opioid Crisis is just a drop in the bucket of what will be needed in the coming years to end the epidemic that took 47,500 American lives last year. 
Lee will soon learn that running state government isn't like running a plumbing company. When you plumb a kitchen sink and the pipes don't fit right, the sink leaks. When lawmakers don't fix things that's politics as usual.
As he learns the ropes, Lee will have to create some pretty unusual politics or he will get tied up in knots and won't be able to deliver on his utopian vision for Tennessee.