www.shenYun.com/Nashville
A Heritage Once Lost
The traditional Chinese culture Shen Yun presents cannot be seen anywhere else in the world—not even in China. There, the ruling communist regime has viewed China's rich spiritual and artistic heritage as a threat to its ideology and for decades tried to erase it.
But in 2006, a group of Chinese artists came together in New York with a vision: to revive the best of China's cultural heritage and share it with the world. They drew courage and inspiration from their practice of Falun Dafa—a spiritual discipline based on the principles of truthfulness, compassion, and tolerance. The company's repertoire includes important works shedding light on the plight of people like them in communist China today.
After a decade of performing around the world to sold-out audiences everywhere, Shen Yun has brought a great civilization back from the brink of extinction.
NASHVILLE
Tennessee Performing Arts Center
Feb 3–4, 2023
Nearby cities: Evansville , Birmingham (USA) , Athens (Georgia)
Tennessee Performing Arts Center
505 Deaderick Street, Nashville, TN 37243
HIGHLIGHTS
Stunningly beautiful costumes and dance
A cast of award-winning, world-class artists
Powerful storytelling that evokes a lost culture
State-of-the-art patented backdrop technology
A full orchestra with mesmerizing, original scores
KNOW BEFORE YOU BOOK
Performances start right on time. Please plan ahead to arrive well in advance in case of traffic or other unexpected delays. The performance is one whole experience—you won't want to miss any part of it.
Note regarding theatrical effects: This event employs CGI special effects, atmospheric effects, and sound effects, and is a visually, aurally, and emotionally immersive experience.
Loud cheering or whistling can be distracting to both performers and other audience members, but applause is always appreciated.
Dress code? Business attire or evening wear, please.
Anyone causing disturbances or obstruction may be asked to leave. Please respect the right of others to enjoy the performance.
Tickets are non-refundable and non-exchangeable.
BEWARE OF ONLINE SCALPERS
WARNING: Do not buy tickets from online scalpers or websites not linked to from this page. Those tickets are likely invalid or significantly marked up.PRICES
$180, $150, $120, $90, $80ORDERING
Box Office:
615-782-4040AUDIENCE
Children under 4 are not admitted.RUN TIME
2 hours and 15 minutes including intermissionPRESENTER
TN & Southern USA Falun Dafa Association
PLAN YOUR VISIT
MAP & DIRECTIONShttps://www.google.com/maps/embed/v1/place?key=AIzaSyCy8f8Lr_dQ0xYjevpLOpMSChYqTMhESY8&q=Tennessee%20Performing%20Arts%20Center,%20505%20Deaderick%20Street,%20Nashville,%20TN
Full Houses Everywhere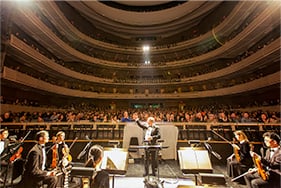 Shen Yun is now the world's premier classical Chinese dance company. Some people fly from other countries or drive hundreds of miles to see it. Others see the same performance five or six times. Why? Many say there are no words to describe it—you have to see it with your own eyes to find out.
Join us for the experience of a lifetime.