JEFFERSON CITY, TN — Nashville-based financial services and fintech company Advance Financial cut the ribbon today at the company's newest store in Tennessee, located in Jefferson City. To mark the occasion, the Advance Financial Foundation donated $1,000 to the Boys and Girls Club of Dumplin Valley. The store is Advance Financial's 104th location in Tennessee.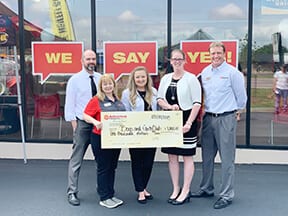 The company celebrated the occasion with an all-day event, featuring the ribbon-cutting, free lunch from Forks on the Road food truck for the first 100 customers, live radio remotes and the fan-favorite money grabbing machine.
"We are so proud to be opening our first store in Jefferson City," said Shantrelle Johnson, VP of corporate citizenship for Advance Financial. "We have chosen to donate to the Boys and Girls Club of Dumplin Valley to mark the occasion because of the crucial support it provides to this community, which we are now a part of."
The new Jefferson City location, located at 275 E Broadway Blvd, is now open for business 24 hours a day, seven days a week and offers a broad range of financial solutions. The company's flagship product is the FLEX Loan, a open line of credit that gives customers the freedom of withdrawing cash at any time (up to their credit limit), then paying it back at their own pace with conveniently scheduled payments. Other products and services offered in stores include 24/7 check cashing, Western Union electronic wire transfers, NetSpend Prepaid Cards, free bill-pay, unlimited free money orders and $2 ATM services. 
"Convenience and accessibility are a big part of what makes our customer service among the best there is," said Anthony Shearin, Advance Financial regional manager. "Opening another store in a central location close to Knoxville delivers on our commitment to making it easier for all Tennessee residents to access our services."
Founded in 1996, Advance Financial is a leading fintech company based in Nashville, Tennessee. With more than 100 stores in Tennessee and online services in 13 states, Advance Financial provides fast lending decisions on line of credit loans and other financial services, 24/7/365. Recent recognition includes 2018 Inc. 5000 fastest-growing private companies (7 straight years); A+ rating by the Better Business Bureau; Nashville's 4th fastest growing company (2018, Nashville Business Journal); Forbes Best Employers for New Graduates (2018); and, Indeed Top-Ranked Workplace for Compensation/Benefits (2018). 
For more, visit www.af247.com.