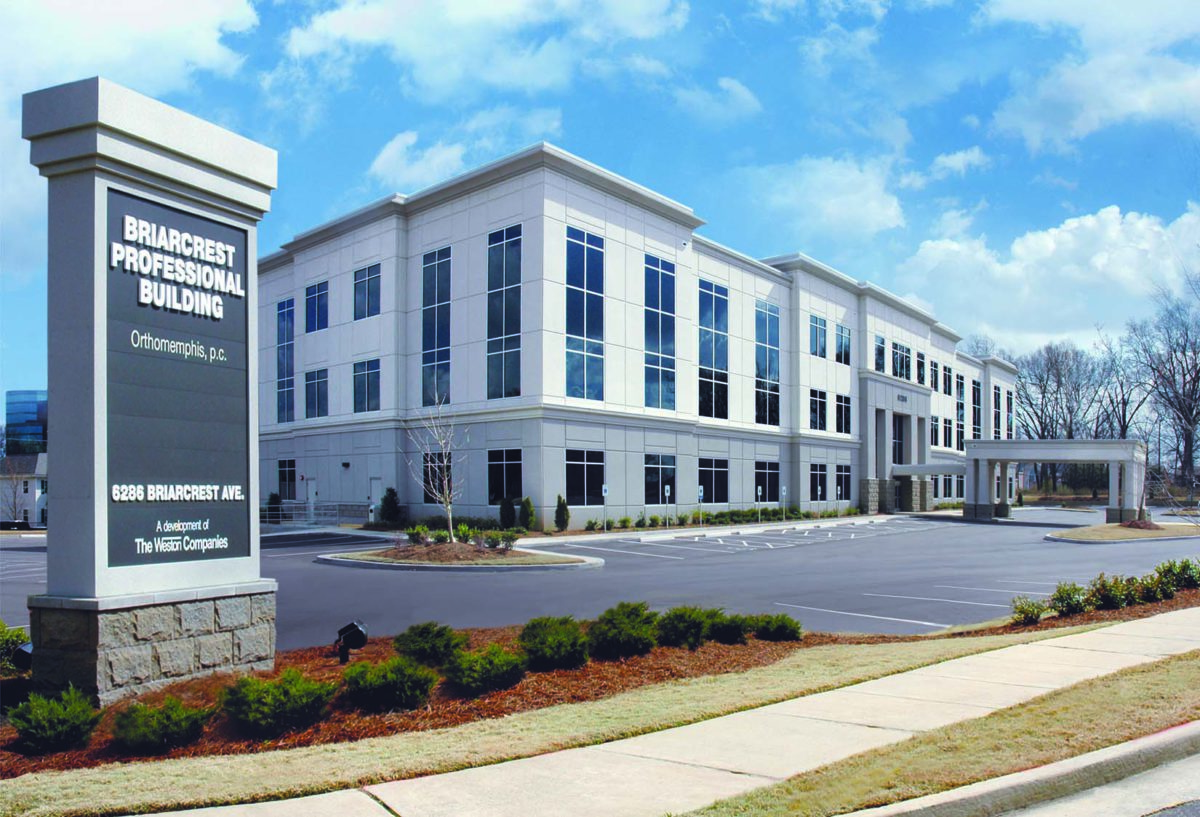 (Media, PA) Anchor Health Properties (Anchor), a national full service healthcare real estate development, management, and investment company focused exclusively on healthcare facilities, has recently closed on the acquisition of two Class A clinical medical office buildings totaling 106,969 square foot portfolio located in the Wolf River / Germantown submarket of Memphis, Tennessee. The properties were acquired through a joint venture between its newly launched comanaged equity fund, Chestnut Healthcare Fund II, and institutional equity partner, The Carlyle Group by way of Carlyle Property Investors, a fund focused on U.S. core plus real estate investments.
7205 Wolf River Boulevard and 6286 Briarcrest Avenue are strategically positioned within a dominant medical corridor featuring prominent regional providers from a wide variety of clinical specialties and close proximity to three prominent hospitals. Specialty care outpatient services offered across the two assets include internal medicine, plastic surgery, OB/GYN, integrative health, cardiovascular, orthopedics, sports medicine, imaging, and ENT.
"Further accentuating our "boots on the ground" presence in the Greater Memphis MSA with this acquisition, we continue to expand our footprint in the Southeastern region and grow our property management portfolio in Eastern Tennessee," shared Ben Ochs, Chief Executive Officer with Anchor. "Building upon our footprint and operational infrastructure across the state, we invest in facilities featuring dominant specialty providers committed to long-term leases and are excited for many more such opportunities as we go forward together with the key tenancy in these facilities.
" The assets are anchored by health system and physician practices with a strong regional presence and feature a highly synergistic tenant mix creating a vibrant ecosystem of crossreferrals. The Wolf River facility is 100% occupied and offers outpatient clinical services provided by Baptist Memorial Medical Group (BMG), one of the largest physician group practices in the region and wholly-owned by Baptist Memorial Healthcare (S&P BBB+). The Briarcrest Professional Building is 98% occupied and is anchored by OrthoSouth, one of the best known orthopedic practices in the Southeastern United States, and an original tenant to the building.
Additional key tenancy includes McDonald Murrmann Center for Wellness & Health, a women's clinic in Memphis specializing in OB/GYN services for more than twenty years, Martin, Lee & Page OB/GYN, a leading OB/GYN in the region, and Mid-South Imaging & Therapeutics, worldclass diagnostic imaging and radiology experts serving the mid-south for 45 years.
"These acquisitions represent key target investments in a dynamic, growing healthcare market where we continue to add scale to our existing presence within the Wolf River medical corridor and the Greater Memphis MSA," said James Schmid, Chief Investment Officer and Managing Partner with Anchor. "The assets met important targeting criteria including proximity to large hospital systems and local healthcare providers while establishing new relationships with BMG and several distinguished regional providers. Substantially all of Anchor's closings to date in 2021 have been off market transactions, and our pipeline of investments under control is also reflective of this trend. The Anchor platform continues to maximize its ability to source high quality investment opportunities off the radar of the institutions.
" Elliott Sellers, Vice President of Investments with Anchor, sourced the opportunity and led the acquisition process. Mr. Sellers also noted, "East Memphis is a highly desirable healthcare market for providers and owners and these investments are a continuation of that theme. Within the past six months, our team has been successful in curating a portfolio of four best in class medical office assets in the area with top providers, all through quietly marketed sales processes, and establishing Anchor as one of the top owners in the market. With this acquisition, we are delighted to start a new relationship with BMG and other top practices at the buildings.
" Both buildings were developed and owned by Weston Companies, and the sale to Anchor marks Weston's exit from the Memphis commercial real estate market. In its almost 50-year history, Weston developed over 12 million square feet of office, retail and industrial properties in the Memphis area, including many notable projects such as Crescent Center, Trinity Commons Shopping Center and Midway Distribution Center. Mike Caldwell, President of Weston, said, "While the sale of our last assets in Memphis is a bittersweet moment, we are proud of our organization's participation in the growth of our hometown over the last half-century. We believe that Anchor will be a great owner for the buildings' tenants and will provide them the same exceptional service as they have been accustomed to under our ownership."
Steve Hall and Kevin Markwordt with Transwestern provided sales advisory services on behalf of the Seller and Truist provided secured debt financing for the project as part of a newly launched debt facility for the Anchor / Carlyle joint venture program. As the new owner of the facilities, Anchor Health Properties will also provide go forward asset, property management, and leasing services at this location.