Former Whites Creek High School star Brian "Penny" Collins has joined the men's basketball staff at Illinois State University the school announced on Monday. Collins joins former Vanderbilt assistant coach Dan Muller's staff as an assistant coach.
Collins leaves East Tennessee State after two years. As an assistant coach at East Tennessee State during the 2016-17 season, Collins helped the Bucs win the Southern Conference Tournament and earn an automatic bid to the NCAA Tournament. ETSU posted a 27-8 overall record and won a share of the SoCon regular-season title with a 14-4 league mark. Collins also led Belmont to the NCAA Tournament as a player in 2006.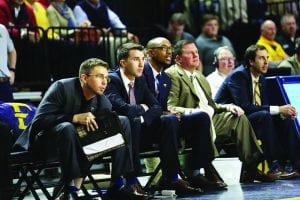 "ETSU was a great move for my family and me and I thank them for making me a better coach," said Collins. We had success there that I will always be proud of. This is just another opportunity for me to get better. I am thrilled to join Dan Muller's staff. I have known Dan for many years and have always followed his program. Dan has instilled a winning culture here at ISU that I, along with the staff, intend to build on. This is a great opportunity to work for an established head coach, top notch program, great facility and superb fan base with high expectations to compete for championships."
The job will be Collins' first outside of Tennessee. After graduating from Belmont in 2006, Collins played in Finland at for the Bakersfield Jam of the NBA Developmental League where he played under legendary coach Jim Harrick. Collins then was hired from 2007-2009 at Tennessee State University. NAIA power Cumberland University hired him from 2009-2012 as an assistant.
Collins received his first head coaching job at Columbia State Junior College from 2012-2015.  At C-State, he was known for recruiting top players. One of his players, TJ Dunans was named the preseason junior college player of the year in 2015. Collins led two of his teams to the junior college championships.
"I have known Penny since he was in high school and have watched him grow in the business," Muller said. "Penny has won everywhere he has been and will bring that winning attitude along with a ton of energy to our program. I can't wait to start working with Coach Collins."
Brian "Penny" Collins Coaching Career
2017-: Illinois State Assistant Coach
2015-16: East Tennessee State Assistant Coach
2012-15: Columbia State Head Coach
2009-12: Cumberland Assistant Coach
2008-09: Tennessee State Director of Operations
2007-08: Tennessee State Graduate Assistant