By Logan Langlois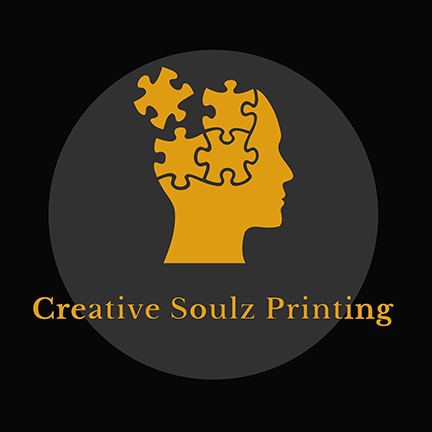 Creative Soulz, the independent Black-owned business striving to prop up other small Black-owned businesses, is one of the go-to places for small startups looking for assistance with printing or branding. The company's owner, Thomas "TK" Kelly, says that strives to match each of his client's budgets and needs with a deal that is best for them, and will deliver them both "quality and affordable" designs tailored to help the business reaffirm and spread awareness of their brand. Creative Soulz garnered significant local buzz, especially considering that the business has only existed since August of 2019, and has continued to show that innovative ideas are often born out of humble beginnings.
When Kelly first began working with printing and design, it was on behalf of his church, typically designing the logos themselves and then sending off his designs to a third party to be printed. One day the person to whom Kelly and the church usually sent their ideas was unable to complete an order they needed within the timeframe they needed it completed. It was after this that he would work to learn the business side of things and go into business for himself creating, designing, and printing for small businesses in need of his kind of assistance.
When conceptualizing what would eventually become Creative Soulz, he said that it was the logo actually the logo that he came up with first, and centered much of his branding around it while still contemplating what he wanted the name to be. The Creative Soulz logo, consisting of many puzzle pieces almost, but not completely, fitting perfectly together to fill the mind of an outline of a head, was inspired by Kelly's feeling of never being finished innovating, always shifting around ideas or coming up with a new one entirely. He eventually decided on the name he currently operates under because he always knew throughout the process that he was going to use the word 'Creative' in the name, and after that decided to include the 'z' in 'Soulz' in order to stand out from the crowd.
Kelly says that clients are welcome to bring their own designs that they would like to be printed, but he also offers digital design services for those who are unsure where to start when coming up with a logo. He says that when most small businesses are ordering items from him, the most valuable items regardless of budget are typically banners, labels, and business cards. If a business has the budget to spare Kelly recommends a tent as a standout item, but a cheaper standout item alternative he suggests could also be a tablecloth showcasing the business's branding.
Kelly says that much of the inspiration behind the helping nature of Creative Soulz comes from Kelly's passion for lifting up other Black-owned small businesses. It's this passion that led Creative Solutions to lend their assistance with the creation of the Nashville Black Business Coupon Book, which is currently in its second edition. The book is also projected to feature over 75 different Black businesses around Nashville and to be released in June.
"[I] definitely want people to look out for that, and purchase and support that because that's not just representing Creative Soulz Printing, that's representing a lot of great businesses that we have here in the Middle Tennessee area."
Fans can follow Creative Soulz on Instagram under @creative_soulz_printing, or subscribe to their email list accessible through www.creativesoulzprinting.com