NASHVILLE, TN — Fairfield Missionary Baptist Church was established in 1883, less than 20 years after slavery was abolished in America. This weekend, the church will hold a glorious celebration to honor this special occasion.
"I am so excited about this milestone celebration," said Pastor Howard E. Jones, Jr., senior pastor of Fairfield. "We are a striving congregation and have provided 140 years of service."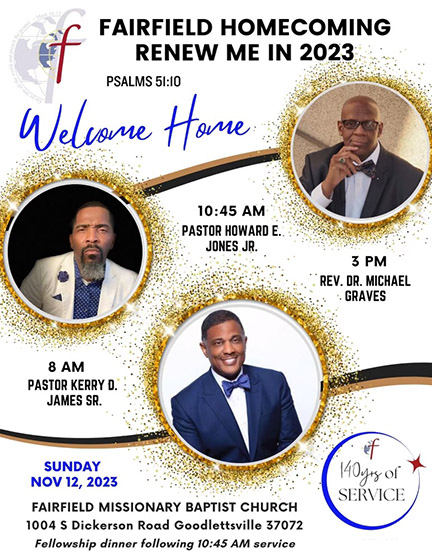 The church will feature multiple services during the day, beginning with Pastor Kerry James, Jr. as the keynote speaker for the 8 am service. A great person of faith, he will deliver a thunderous message of legacy and longevity for the day.
The 10:45 am service will feature Fairfield's own Pastor Howard E. Jones, Jr., who has served as the senior shepherd at Fairfield for more than 34 years. He has christened babies, baptized children, married couples, and buried members. He now sees those babies as leaders in the church, and adults who are a part of this milestone celebration.
The final service at 3 pm will feature Rev. Dr. Michael Graves who will bring his strong message of peace, joy, and legacy.
What has this church done for 140 years? It has worked to be a part of the entire Davidson County community, as well as a regional and national platform. In addition to the church anniversary, the celebration will be a homecoming of sorts. Former members, potential members, and of course current members will join in the celebration, as well as members of the greater community.
While the church started in 1883 with a few members, it now boasts more than 1,300 members who worship in person and virtually. While many churches were closed during the COVID-19 pandemic from 2020-2022, Fairfield observed strict protocols and never closed. The church even held some funerals for members of other churches during that time.
"Our purpose is to follow God's teaching, and it was not to close during the COVID-19 pandemic. We had no major outbreaks as we followed God's word," said Pastor Jones.
The church has traditions and new trends that have supported its growth and sustainability. Pastor Jones has been the longest serving of the 11 pastors in the history of the church. A significant activity of the church is the annual Dry Bones service, taking place every year in October. It began with Rev. J.R. Statton in 1930 and has continued with every pastor through Pastor Jones.
"In 10 years, in 2033, the church will celebrate its Sesquicentennial. This 140th anniversary is a prelude of what is to happen in the future," said Pastor Jones.
Fairfield Missionary Baptist Chruch is located at 1004 South Dickerson Road in Goodlettsville, and streamed live on the Fairfield Facebook page.