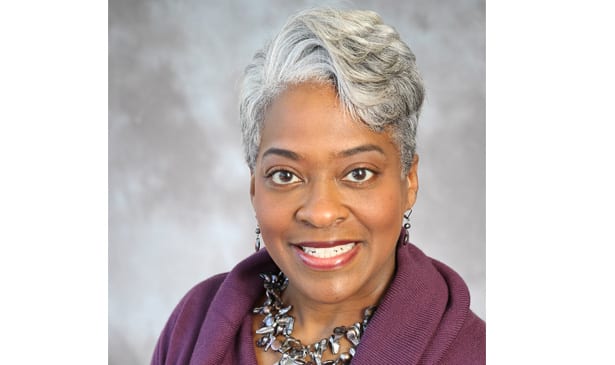 NASHVILLE, TN — Rev. Lisa Hammonds, a native of Nashville, has been appointed as senior pastor to St. John African Methodist Episcopal (AME) Church in north Nashville. Rev. Hammonds is the first female to serve in this capacity at the iconic church. St. John is the Mother Church (oldest) of African Methodism in the denomination's 13th Episcopal District, comprised of Tennessee and Kentucky. This appointment brings her home to serve the congregation where she first acknowledged her call to ministry, preached her initial sermon, and began the ordination process for pastoral ministry. She most recently served as pastor of St. Peter AME Church in Clarksville and has served congregations in Columbia, Nashville, and Clarksville during the last 17 years.
Bishop Jeffrey N. Leath, the presiding prelate of the 13th Episcopal District, made the appointment in March that brings Rev. Hammonds home. "It was a clear decision for me to appoint Rev. Hammonds to St. John, where she will utilize her skills in revitalizing and growing this church to a significant place among all the churches in this city," he said.
Rev. Hammonds's 22 years in ministry has prepared her for this historic pastoral appointment. In addition to her denominational credentials, she holds a Bachelor of Arts degree in Business Administration from Middle Tennessee State University in Murfreesboro, Tennessee, and a Masters of Divinity degree from Vanderbilt Divinity School in Nashville, Tennessee.
The significance of returning to her home church to serve as its pastor is not lost on Rev. Hammonds. "I am especially proud and excited about the opportunity to come home and serve the people and community that had such a vital part in shaping who I am today as an individual and pastoral leader. My education, previous pastoral experiences, guidance from colleagues, and the wisdom of a great cloud of witnesses have prepared me for such a time as this. I look forward to the work ahead with the support of this great congregation," said Rev. Hammonds. In addition to overall ministerial administration and pastoral care, Rev. Hammonds is passionate about serving the community. She believes the church must play a pivotal role in addressing society's needs and in seeking justice for all by demonstrating God's example of love and community. 
In addition to holding various committee leadership positions at various church levels, Rev. Hammonds is a member of the Interdenominational Ministers Fellowship (IMF). She serves as an officer in the Nashville Chapter of the National Consortium of Black Women in Ministry (NCBWIM). She is also a member of the Nu Kappa Omega Chapter of Alpha Kappa Alpha Sorority, Incorporated.
Not limiting her ministry in the local church context, Rev. Hammonds lends her organizational gifts to the global church by serving as an assistant to the denomination's Treasurer/CFO, Dr. Richard A. Lewis. Additionally, she is a licensed funeral director in Tennessee and is on staff at Lewis & Wright Funeral Directors. Recognizing Rev. Hammonds's promotion, Dr. Lewis said, "Rev. Hammonds is multi-talented and has been successful in numerous fields. Her appointment to lead the flock at historic St. John shows she is aptly prepared and will do an outstanding job." In 2016, she became the Assistant Editor for The Christian Recorder, the oldest existing periodical published by African-Americans in the United States and the AME Church's official news organ. 
Rev. Hammonds regularly preaches throughout Nashville and surrounding areas in addition to her engagements nationally and internationally. On Good Friday, she participated in the Nashville AME Ministerial Alliance's Seven Last Words service held at Greater Bethel AME Church. Her sermon captivated and ignited the audience with power and purpose.
Welcoming Reception
The St. John congregation will hold a Welcome Reception for Pastor Hammonds on Saturday, May 26, from 12 noon-3 p.m. at St. John, The church is located at 1822 Formosa St. 
For information, contact the church at 615-320-1026.