By Treva R. Gordon
In a fast-paced world where entrepreneurship is on the rise, meet an inspiring 12-Year-Old CEO from Hermitage, TN. Meet Kierra Perkins, a business savvy pre-teen who stands out from the crowd.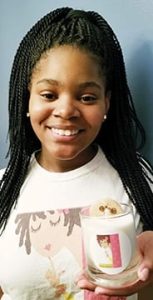 Kierra is the CEO of Kandles by Kierra. She is a 12-year old, 8th-grade student attending
Strive Collegiate Academy who loves life and is setting examples for others to achieve.  Perkins said, "I began Kandles By Kierra after making a candle for my dad, uncle, and grandfather for Father's Day.  I wanted to do something different for Father's Day so I looked up candle making videos and I made the Chocolate Chip Cookies and Milk Kandle.  My mom took a picture of me and posted the picture on Facebook and I got a lot of positive responses, so I decided to start a candle business."
Kierra is involved in many activities in school and the community. Her mission is to help encourage her peers by showing them that anyone can do it, and by showing young people that a creative mind can grow a business. Kierra believes that you don't have to wait until your an adult to reach your goals.
Kierra is a motivational speaker and a race car driver since the age 8. Her race car Junior Dragster is a beautiful royal blue.  Kierra enjoys racing against her opponents; especially boys who think a girl cannot win against them.
Kierra enjoys spending time with family and learning.  Kierra has been featured on News Channel 5 Nashville and on the Treva and Kevin Show MYTV30.  She was a premiere vendor for a local store called Mama's Modern Touch, Pop-Up shops at Pottery Barn and Pottery Barn Kids in Green Hills, TN. She received the Who's Who in Nashville award by Dr. Bobby Jones on his television show, Bobby Jones Presents on the Impact Network, the Entrepreneur on the Rise award at the Hustle in Heels Women's Conference in Greensboro, NC.  In addition, awarded a $500 Gift Certificate from Genesis Diamond at the Women Who Rock Nashville event. 
For more information about Kierra Perkins and Kandles by Kierra visit online at www.kandlesbykierra.com.
For more information on how you can feature your Inspiring Youth in the Tennessee Tribune, please email Treva Gordon at TrevaGordon1@gmail.com.