NASHVILLE, TN —  Les Gemmes Nashville Chapter is set to host their 16th Annual Literary Luncheon on Saturday, May 27th from 11 am – 1 pm at the Downtown Nashville Renaissance. The luncheon, dubbed its Sweet 16, will honor three awardees, Simone Sheats, Atty. Nick Leonardo, and Lorenzo Washington, and feature three iconic speakers: Angela Marie Hutchinson, Patricia Williams Dockery, Ph.D. and youth speaker Alora Young. Tables of 10 are $1,000, seats are $100, and African Attire is optional. The annual Literary Luncheon is a major fundraiser that brings some of the best and brightest authors from throughout the nation to Nashville to support the "Lighting the Path for Girls" program that supports Les Gemmes "Jewels."
The Les Gemmes annual Literary Luncheon is one of the most highly regarded social events in Nashville. Please visit https://www.lesgemmesnashville.org/23-literary-luncheon.html.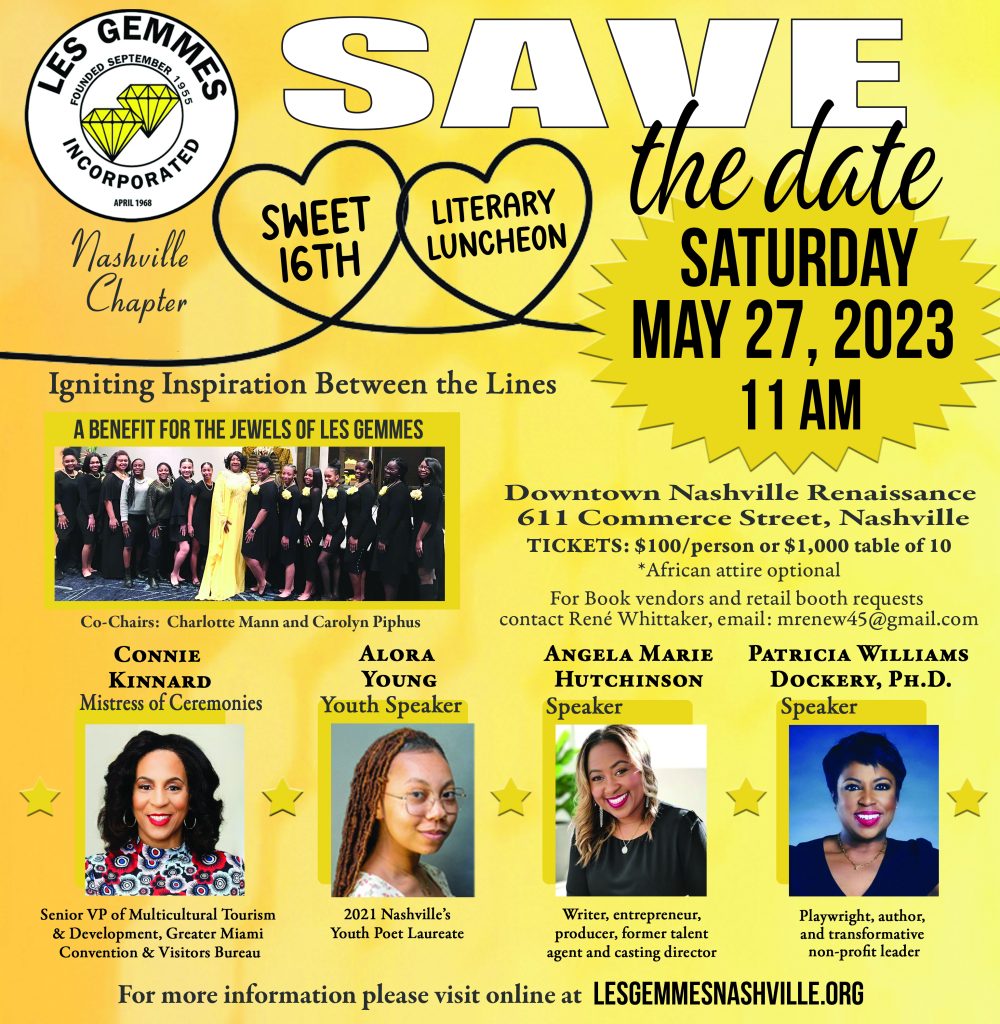 "This 16th annual Literary Luncheon continues the legacy of this organization to be a guiding light for our youth and society as a whole." said Dr. Phyllis Qualls, president.
Co-Chaired by Charlotte Mann and Carolyn Phiphus, the benefit aims to ignite inspiration between the lines. Senior VP of Multicultural Tourism & Development at the Greater Miami Convention & Visitors Bureau Connie Kinnard will set the tone as the Mistress of Ceremonies. Nashville's 2021 Youth Poet Laureate Alora Young will be the Youth Speaker, along with playwright/author Patricia Williams Dockery, Ph.D., and playwright/author/Hollywood executive Angela Marie Hutchinson.
The benefit will also award three change-making and impactful Nashvillians with three awards. Simone Sheats will be awarded The Dr. Evelyn Fancher Community Award. Simone led numerous projects with the Links involving sex trafficking, cancer treatment, and other work to uplift the community. Judge Nick Leonardo will be awarded the Rosetta Miller Perry Award. Nick is a two-time Emmy-nominated CBS Legal Analyst in Nashville, served on the Davidson County Metropolitan Council as the District 1 representative, and works as a TN Trial Lawyer. Finally, Lorenzo Washington, owner and creator of the Jefferson Street Sound Museum will be awarded the Luminaire award.
Les Gemmes, Incorporated (French; means "the Jewels", and pronounced "lay gem"), was founded in September 1955 in Norfolk, Virginia by four young ladies who had grown up as friends from childhood. Attending HBCUs in North Carolina and Virginia, Melvine Blakeley, Lena Siler, Queenie Branch, and Inez Mercer Brown were educators as well as visionaries. It was in the interest of socializing and monetary saving that they envisioned a club that would ultimately affect positive change, encourage high scholastic achievement, and foster a greater sense of unity among its members. Les Gemmes, Incorporated is organized exclusively for charitable, educational, civic, and cultural purposes, and is committed to promoting positive influences within local communities.
The purpose of the organization is to uplift young girls, called (Jewels) to provide them a path to become outstanding young ladies in the "Lighting the Path for Girls" program. The group holds workshops and sponsors trips to provide exposure for these young girls.  They have done college tours, visited Washington, D. C. and participated in the 40th Anniversary of the Edmund Pettus Bridge, in Selma, Alabama.