By Wiley Henry
MEMPHIS, TN – The little quaint restaurant sizzles on the inside where succulent cuisine is artfully created by a master chef – like DaVinci painting the "Mona Lisa," for example.
The cuisine is just as much a work of art as it whets the appetite. The master chef is Christopher E. Beavers. The quaint little restaurant, which Beavers is the sole proprietor, is called The Grilled Asparagus.
"It goes back to the name culinary arts. It is the art of cooking," Beavers explained.
Located at one end of a strip of small businesses, The Grilled Asparagus is south of Crosstown Concourse at 431 North Cleveland Street and Autumn Avenue, where the small businesses thrive.
The building's exterior is painted charcoal gray; its facade is nondescript. But the aroma of mouth-watering food wafts within the cozy and elegant space. A sign bearing the name of the restaurant hangs overhead.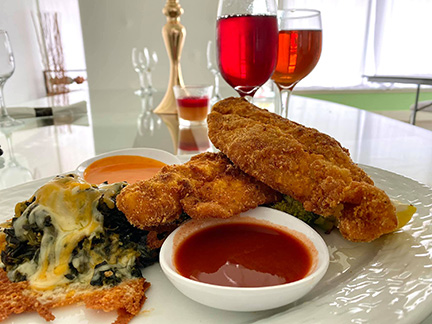 The Grilled Asparagus serves an array of dishes between soul food and specialized entrées that one may find on the menu at four-star restaurants. Whatever your palate craves – vegan, vegetarian or pescatarian – Beavers makes it happen.
In addition to the succulent meals that he prepares at the restaurant, Beavers is a well-known chef who personally cooks for celebrities, judges, attorneys, doctors, and others. His clientele varies.
He is a culinary artist per se whose kitchen skills were sought by the late Bud Davis of Bud Davis Cadillac of Memphis, the late Lorenzen Wright and Rudy Gay, former standouts for the Memphis Grizzlies.
"My longest tenure was when I was a personal chef for the Memphis Grizzlies," he said.
Beavers served as the personal chef for the Grizzlies for four years and R&B singers Anita Baker and Ginuwine. He also cooked for other NBA players, coaches, community leaders, Memphis City Schools, and politicians.
The Reeves Law Firm in Memphis is currently a client. "We provide food for them daily," he said.
Beavers has built a steady clientele of celebrities whose taste buds vary as much as the diverse dishes he serves. But then he would like to attract more blue-collar workers and young people to the restaurant.
Not too many young people, he said. Either way, he's familiar with various dishes when cooking for both celebrities and blue-collar workers.
"It's kind of hard to find that medium," he said, "where you're attracting the clientele that I've built up, but also attract this new crowd that has money to spend."
So, what is Beavers' style of cooking? "It's kind of hard to peg a particular style or class of cooking," he said, choosing instead to be versatile and consistent when cooking for his clients.
"I used to say versatility and creativity. But [the] clientele doesn't want creativity, they want consistency. They don't want a new macaroni and cheese; they want the same one from last year."
Beavers' interest in cooking began when he was a child growing up on Seventh Street in North Memphis. He graduated from Manassas High School in 1994 and chose to pursue a career in cooking.
"I just wanted to learn how to cook. It always interested me," he said. "When I graduated from high school, I got a chance to go to culinary school. That's how I got my culinary chef certification."
Beavers earned his culinary arts degree from Kittrell Culinary School in Henderson, North Carolina, where he learned to develop his own unique style and flair. Then he began serving as a sous chef in five-star kitchens throughout Memphis.
"I became an entrepreneur in 2010, but I didn't get a brick and mortar until 2019," he said, referring to his little quaint restaurant, The Grilled Asparagus.
Success is not guaranteed, he said, although he's been quite success thus far. But not all chefs are rated the same.
"I would say that more people underestimate how challenging being a chef is," said Beavers, "even people who go to a culinary school to become a chef. They underestimate the tenacity, the strength that you're going to [need] to do it every day."
Beavers said if a chef is cooking for hundreds, or thousands, it's got to be right.
"You have to have the gift of taste to get it right," he said. "It takes some intangible gifts to do this on a high level."
Chef Christopher E. Beavers can be reached at 901-406-8581.