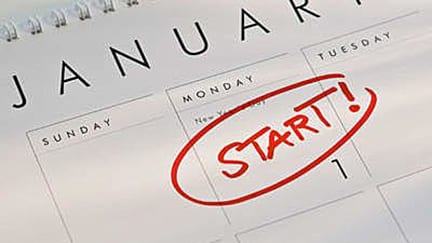 It's that time of the year where we start to think about what the New Year has in store for us and what we would like to accomplish in 2018. Like so many people, your resolution may be to lead a healthier lifestyle each year, but let's also add to the list enhancing your dental health as a goal. Good dental health habits promote a beautiful smile and they contribute to your overall health as well. Let's look at a few dental health tips to consider for the New Year.
Tips on How to Step Up 
Your Game in 2018
• Brush and Floss regularly: are the best line of defense against cavities and gum disease and we should brush twice daily and floss once daily.
• Eat Healthy: a healthy diet is important for maintaining good overall health and good dental health. Incorporate more tooth healthy foods in your daily diet .
• Control your Sweet Tooth: sugary snacks and beverages are your teeth's worst enemy because they can lead to tooth decay and affect your health.
• Stop Using Tobacco Products: they can cause all kinds of oral health problems to include oral cancer. If you currently use tobacco, consider quitting for 2018.
• Regular Dental Checkups: allows your dentist to monitor your dental health and address any concerns before they become bigger problems . Visiting your dentist every 6 months is the best way to ensure a clean bill of dental health.
While you may have your own resolutions you want to achieve, why not add some New Years resolutions for your teeth for 2018. Healthier teeth can lead to a brighter smile and more smiling puts you and the people around you in a happier mood. Do your teeth a favor this New Year by practicing excellent dental health habits and smile big for 2018!
Please call Integrity Dental Care, PLLC  (615) 445-8700 or email [email protected] if you have questions.