By Cynthia Anderson
NASHVILLE, TN — In mid-October Amanda Harvey will move her Nashville Living Group/ REMAX Elite real estate office to the heart of North Nashville in the newly renovated building at the corner of Clifton and 28th Avenues across from the Swett's restaurant plaza.
Harvey (formerly Amanda Rupert) and her business partner and new husband Chad Harvey, want to be in the area where most of their clients are.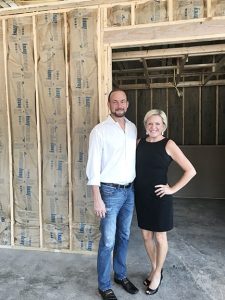 She is the exclusive listing agent for Nashville builder and developer E3 Construction Services LLC, which is now the largest land owner in the area renamed City Heights that encompasses 14th to 31st Avenues.
E3, which is owned by John H. Eldridge III, is building a number of housing developments in the area and Harvey can't sell them fast enough.
"With 110 people a day moving to Nashville, there are just not enough homes," Harvey said.
The 14 units at E3's 27N housing community at 2701 Clifton Ave. sold out in the drywall phase with homes selling from $450,000 to $630,000. All six units in E3's Summit at City Heights on 27th Ave. North sold out at $650,000 each. And at E3's the View at City Heights on Delaware Ave. nearly half of the 14 units available are under contract for $620,000 to $877,000.
E3 has big plans for the area and will build 400 single family and multi-family homes plus 176 condos in a high rise development on 25th Avenue. Commercial property will also be added to Clifton Ave.
"This area is getting a total transformation," Harvey said. "It's a total rejuvenation of an area within the urban core. We believe so much in the community. We want our office to be there in the center of the action."
E3 purchased the building, which has an address of 701 28th Ave. N., last year for $650,000.  The 3,330-square-foot building will include E3's main office, which will relocate from Wedgewood Ave., along with the offices of real estate developer Build Nashville, and Harvey's office, Nashville Living Group.
Harvey said her office will be the only real estate office in the City Heights area.
She represents three clients: E3, Titus Young Real Estate LLC, and Rightway Properties. All are building in the City Heights area.
Harvey said moving to the area will allow her to not only be closer to her clients, but also to potential buyers. 
Buyers are attracted to the area, Harvey said, because most of the new homes offer unobstructed views of downtown, and are less than 3 miles and a $5 Uber ride from Downtown Broadway. This has attracted investment buyers and created a new market for vacation rentals in the area, Harvey said. Investment buyers have been renting since March and Harvey said they have had steady rentals.
While critics of transformation of similar areas caution against displacing residents, Harvey said E3's new housing was built on vacant land, properties that were abandoned, and vacant homes.
 "It lifts up the community, and it lifts up the property value," Harvey said.
David Swett, owner of Swett's Restaurant whose family has run a business in the location for more than five decades, said before builders came to the neighborhood there were hundreds of abandoned buildings. He believes his new neighbors did a great job of renovating the property across the street from his business that had at one time been home to a laundry service.
"It makes the corner look better than what was there," Swett said. "It makes the neighborhood a place where people want to come to instead of the old neighborhood which was a place where people want to run away from."